Sunak Urged to Give U.K. Entrepreneurs Budget 'Shot in the Arm'
(Bloomberg) -- Chancellor of the Exchequer Rishi Sunak should put entrepreneurs at the heart of next month's budget, one of the U.K.'s biggest business lobby groups said, as it called on him to avoid "damaging" tax rises.
With the U.K. economy battered by the third lockdown to contain the coronavirus pandemic, the Institute of Directors urged Sunak to extend aid for workers and companies -- and to help owner-directors who missed out on support if they paid themselves in dividends before the outbreak.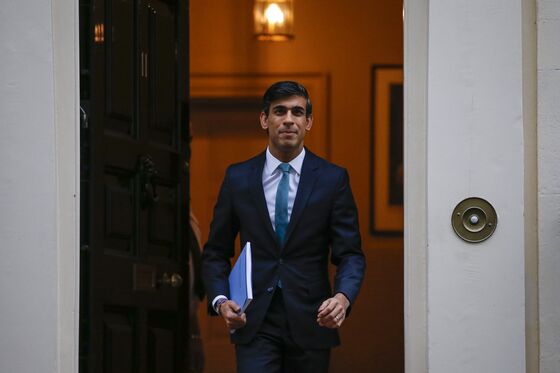 "The budget should ​put a shot in the arm of entrepreneurs by providing reliefs to drive-up investment in enterprising businesses and encouraging small firms to invest in technology, retraining, and green growth," IoD Director General Jonathan Geldart said in a statement. "It is high time the millions who have not qualified for significant income support, like owner-directors, are given some reprieve."
Sunak, who is trying to spur a recovery from the country's deepest recession in three centuries, has stressed the need to get the U.K.'s long-term finances in order after splurging almost 300 billion pounds ($414 billion) on tackling the virus and supporting businesses and workers.
Grants for company owner-directors who have missed out on previous support programs
Temporary relief for employers' National Insurance Contributions
No rises in corporation and capital gains taxes
Vouchers to help small businesses access the advice they need to navigate the new trade bureaucracy resulting from Brexit
A tapered furlough extension
Geldart said it is "paramount" that existing support programs are extended, and warned it's "not the time to be experimenting with higher taxes."
"Tax hikes right now risk choking off the economic recovery before it has even got started," he said.