Sunak Urged to Extend U.K. Job Support, Help Indebted Firms
(Bloomberg) -- Rishi Sunak should extend wage support for U.K. workers in the hardest-hit sectors, lawmakers said on Friday amid warnings from economists, labor unions and opposition parties about a looming wave of job cuts.
The chancellor of the exchequer must also devise a plan to help companies that plunged into debt as a result of the coronavirus pandemic, or risk prolonging the deepest recession in living memory, the House of Commons Treasury Committee said in a report on Friday. Former Prime Minister Gordon Brown added his voice to calls to keep pay subsidies going.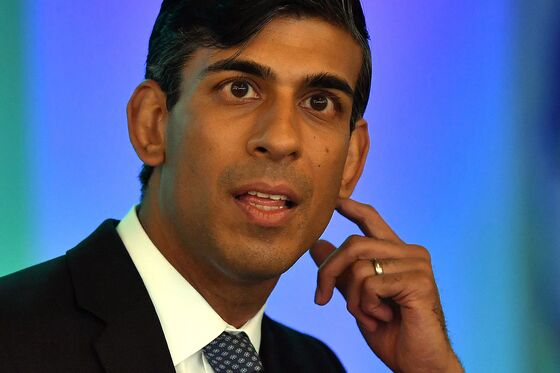 "The key will be assisting those businesses who, with additional support, can come through the crisis as sustainable enterprises," said Chairman Mel Stride, a former Treasury minister. "This requires a very difficult set of judgments."
The cross-party panel twinned its call for further help with demands for a roadmap to return the public finances to a sustainable position, underlining the fiscal tightrope Prime Minister Boris Johnson's government is walking.
The chancellor has strongly indicated that tax increases will be needed to stabilize the national debt, which is now above 2 trillion pounds ($2.6 trillion) for the first time and bigger than the size of the economy. However, the Treasury Committee warned that doing so too early could "stifle" the recovery.
The furlough program, under which the government has paid as much as 80% of the wages of some 9.6 million workers, is due to be wound down altogether at the end of next month. The fear is that firms unable to resume payroll costs will be forced to shed workers, driving up unemployment.
"Three million people could be unemployed: if it gets to that stage then we are facing long-term damage, losing skills, losing capacity," Brown, who was prime minister during the 2008 financial crisis, said in an ITV interview on Friday.
Brown called for a "recovery plan" that avoids the Oct. 31 cliff-edge end of furlough, including part-time extension of the program in particular sectors, more help for young people facing the worst labour market in half a century, and assistance for debt-laden businesses. "We really have to take action now to save money later," he said.
Sunak insists the program will end as planned. Chief Secretary to the Treasury Steve Barclay doubled down on that message on Wednesday, saying continuing the program would only serve to keep people "trapped in a job that only exists because of the furlough scheme."
So far, the initiative has cost over 35 billion pounds. The Treasury Committee said any extension beyond October should be targeted at those who need it the most.
"A large proportion of businesses in sectors such as hospitality and leisure that are suffering most from social distancing may still have a viable long-term future at the end of October," the panel said.
The panel said Sunak should also:
Consider extending the increased Universal Credit payments beyond the one-year time-frame envisaged
Help small and medium-sized companies struggling with coronavirus debts to recapitalize their balance sheets, outlining a plan within the next three months
Examine the adequacy of, and eligibility for, sick pay
Mull additional measures to stimulate consumption, beyond a VAT cut on hospitality and leisure and the Eat Out to Help Out program that subsidized restaurant meals in August
Carefully consider "sensible" proposals to suspend the Conservative Party's "triple lock" pledge to raise pensions every year by the highest of inflation, wage growth or 2.5%