Sunak Told $6.2 Billion Isn't Enough to Aid U.K. Lockdown Firms
(Bloomberg) -- U.K. businesses groups said the 4.6 billion pounds ($6.2 billion) of emergency aid that Chancellor of the Exchequer Rishi Sunak offered to cope with lockdowns is short of what's needed to keep many companies out of financial disaster.
The new Covid-19 rules close schools and non-essential shops until at least the middle of February, keeping almost a third of the U.K. workforce either unemployed or on furlough. The Treasury estimated the money will help 600,000 businesses nationwide.
The latest program is a one-time grant of as much as 9,000 pounds for retail, hospitality and leisure businesses forced to close during lockdowns. For many, that will only go a short way to cover rent and fixed costs they still have to pay even though they're earning a fraction of their normal revenue.
"While this immediate cash flow support for business is welcome, it is not going to be enough to save many firms," said Adam Marshall, direct general of the British Chambers of Commerce. "We need to see a clear support package for the whole of 2021, not just another incremental intervention."
While Sunak said the plan will help firms "get through the months ahead," the reaction from business groups suggest he will come under pressure to increase or extend support. That's a familiar request to a chancellor whose initial response to the crisis drew widespread praise, but since has come under regular criticism for acting too late and creating unnecessary cliff edges for companies.
Prime Minister Boris Johnson's government is counting on a mass vaccination program taking root by Easter to allow an easing of the restrictions. Marshall's concerns are shared by many other lobby groups, which stressed the need for a longer-term approach.
Richard Burge, chief executive of London Chamber of Commerce and Industry said "the government need to demonstrate they understand that this remains a marathon, it's not yet the final sprint." Kate Nicholls, chief executive officer of the UKHospitality group said Sunak's aid represents "only a sticking plaster for immediate ills."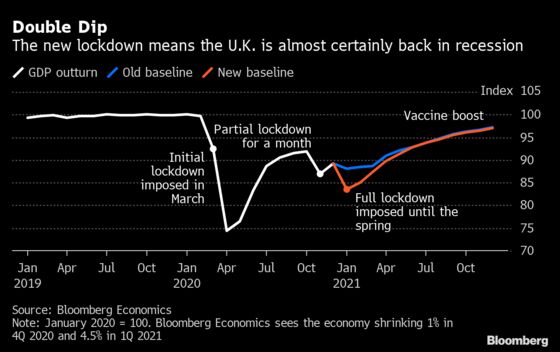 "It is not enough to even cover the costs of many businesses and certainly will not underpin longer-term business viability for our sector," she said.
The latest measures add to the 280 billion pounds it has cost the Treasury to tackle the virus and support firms and workers through the pandemic. Sunak has said that level of spending -- and borrowing -- isn't sustainable, drawing the ire of economists who warn failing to spend enough now will damage a slow recovery that's already seen lasting beyond next year.
Nicholls and Burge both are seeking an extension to the business rates holiday, which currently runs until the end of the tax year in April, as well as an extension to reduced value added tax rates for the industry.
Mike Cherry, chair of the Federation of Small Businesses, said for many, the grants "won't be enough for businesses who are already under the cosh and on the brink." Roger Barker, director of policy at the Institute of Directors, said Sunak "must remain wary of a Spring cliff-edge" when the current programs taper off.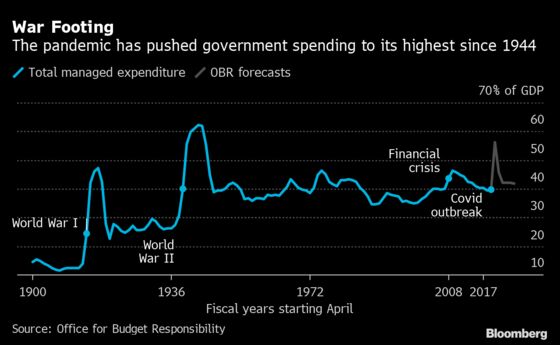 The latest rules mean the U.K. is headed for a more severe double-dip recession after the suffering the biggest slump in three centuries last year. Bloomberg Economics expects the economy to shrink 4.5% in the first quarter while JPMorgan Chase & Co. anticipates a 2.5% contraction.
As things stand, the government's main support program for workers -- the furlough plan paying 80% of wages to those whose employer was forced to close -- is due to expire at the end of April. Money for the self-employed also finishes after April, while business loan programs are due to close to new entrants at the end of March.
"With the vaccine rollout now underway, and increasing mass rapid testing, there really is a brighter future within reach," said Rain Newton-Smith, chief economist of the CBI, the main U.K. employer's group.