Sudan's Prime Minister Arrested in Military Takeover
(Bloomberg) -- Sudan's army detained the prime minister and several members of his cabinet in an apparent coup early Monday, threatening to derail a fragile democratic transition and imperil newly won support from the U.S. and international donors. 
Premier Abdalla Hamdok's home was surrounded at dawn and he was later moved to an unknown location after refusing to endorse a military takeover, the Information and Culture Ministry said in a statement on its Facebook page, calling for protests to thwart the coup. Internet outages were reported in the capital Khartoum.
Sudan has worked to end its international isolation since mass demonstrations overthrew long-time dictator Omar al-Bashir in 2019, normalizing ties with Israel and repairing relations with the U.S., which rescinded its almost three-decade designation of the African nation as a state sponsor of terror. Buffeted by a collapsing currency and soaring prices, Sudan has also managed to secure International Monetary Fund support and a pledge by the Paris Club of creditors to restructure $23.5 billion of its debt. 
All that is now under threat as the United Nations condemned any military takeover and the U.S. warned it could withdraw aid. 
The U.S. is "deeply alarmed at reports of a military take-over of the transitional government," special envoy to the Horn of Africa, Jeffrey Feltman, said in a statement. "Any changes to the transitional government by force puts at risk U.S. assistance."
Sudan has been in political turmoil since a failed coup attempt a month ago exposed festering divisions between civilian and military officials sharing power in the transitional sovereign council. 
Feltman visited Sudan at the weekend in an effort to calm tensions that had reached boiling point as the date neared for the army to cede leadership of the council. Agreed in the aftermath of al-Bashir's removal, the transition was meant to lead Sudan to democratic elections in 2023 and complete the former international pariah's economic and political rehabilitation.
The head of the United Nations mission in Sudan, Volker Perthes, expressed concern over "reports of an ongoing coup and attempts to undermine Sudan's political transition." The reported detentions of Hamdok and other government officials and politicians was "unacceptable," he said in a statement, calling for their immediate release.
Those detained include Sudan's ministers of cabinet affairs, information, telecommunications and industry, according to a person familiar with the situation. 
Phone calls to military and government officials seeking comment didn't connect.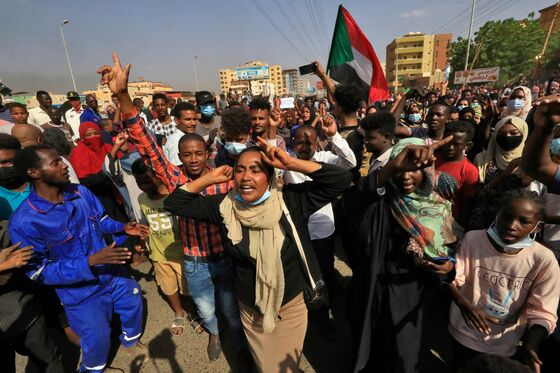 The Sudanese Professionals Association, an activist group that had a major role in 2019 protests, said the army's move was an attempt to take power and called for supporters to take to the streets. Demonstrations were seen early Monday in the south of Khartoum and Omdurman, the twin city of the capital.