An Embattled Bashir Dances as Sudanese Rage Over Prices
(Bloomberg) -- Sudan's embattled long-time president Omar al-Bashir danced a jig on stage and told thousands of supporters that elections are the only way out of the current crisis, as he looked to reverse a tide of protests that have swept across the impoverished nation.
In a televised rally in Khartoum, the capital, Bashir rejected calls to step down, saying there "are those who conspire against Sudan and seek to attack it." There are no other options but a national dialog and elections, he said, as chants broke out of: "There is no alternative to al-Bashir."
Flanked by supporters, and sporting a brown leisure suit, Bashir danced on stage and waved his cane to cheers. The show of force by one of the region's longest-serving rulers comes as the government faces continuing protests against soaring living costs.
The rally took place as anti-government protesters held a counter-demonstration in Omdurman, Khartoum's twin city. Television footage showed thousands marching in the streets, while Agence France-Presse reported that security forces fired tear gas at the crowds.
"We won't allow any external bodies or forces to sabotage our country," said Bashir, who took power in 1989, adding the nation enjoyed the support of China, Russia, the United Arab Emirates and Qatar. "We won't allow chaos. The only way to come to power is through election, which will be free and fair."
While rich in oil, decades of strife -- including with its southern neighbor -- two decades of U.S. sanctions imposed on Bashir for supporting terror that were lifted in 2017, and general mismanagement have curtailed efforts to expand Sudan's economy. Inflation has hovered at nearly 70 percent, while three currency devaluations and shortages of cash and fuel have hit Sudanese hard.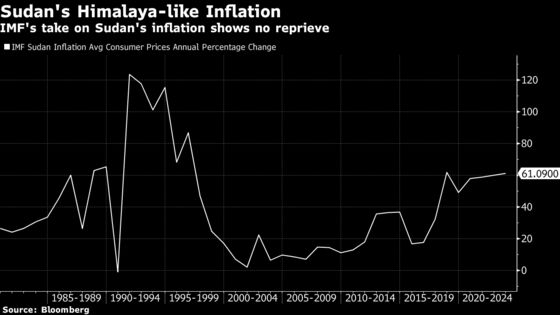 Bashir has sought to paint a different picture -- one of malcontents intent on subverting a nation on the brink of revival. A parliament packed with his supporters has provided the 75-year-old former army general with a rubber stamp to seek a constitutional amendment allowing him to run for office again in elections in 2020.
Thousands of protesters last week blocked streets and attempted to march on the presidential palace, while calling on Bashir to resign. At least 19 people have died in the protests, while authorities have arrested more than 800. Bashir praised security forces for their restraint and in helping "protect them from the mercenaries that infiltrate the protests."
The protests are an echo of those that rippled through the Arab world in 2011, triggering a wave of uprisings that ousted autocratic presidents in Tunisia, Egypt, Libya and Yemen and plunged Syria into an abyss of violence.