Students Step Up Protests Against Thailand's Army-Backed Premier
(Bloomberg) -- Follow Bloomberg on LINE messenger for all the business news and analysis you need.
Thailand's military-backed Prime Minister Prayuth Chan-Ocha is reeling from a flurry of student protests and parliamentary attacks after the enforced break up of a popular pro-democracy party.
The barrage of criticism in the past week after the Constitutional Court disbanded the Future Forward party threatens to weaken Prayuth's grip on power. The 65-year-old leader of the 2014 coup transformed into an elected ruler after last year's disputed general election, which was held under a charter crafted during his junta's tenure.
The question now is whether the power brokers in Thailand's royalist establishment decide fresh leadership is needed to restore control and stabilize an economy that's slumping because of the coronavirus outbreak, delayed public spending and a severe drought.
"This could be the beginning of the end for Prayuth," said Prajak Kongkirati, head of politics at Bangkok's Thammasat University, who has researched and analyzed Thailand for more than two decades. "It's up to the establishment how long they would be willing to support a premier that's highly unpopular."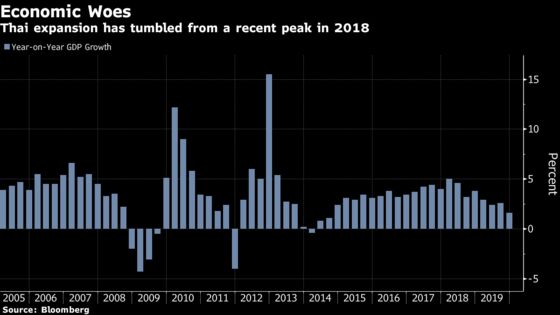 Some Future Forward lawmakers switched allegiance to a party in the ruling coalition after the dissolution, strengthening the government in the legislature by expanding its previously slim majority.
But Prayuth has also been forced to rebut fierce denunciations. They began last weekend when banned Future Forward executives alleged the premier helped Malaysia's then leader Najib Razak in the cover up of the giant 1MDB scandal. A Thai government spokesman denied the claims.
"While the government has become stronger, Prayuth's position has weakened," said Kevin Hewison, an emeritus professor at the University of North Carolina at Chapel Hill and an expert on Thai politics. "There might be a reshuffle of economic ministers. It might be an opportunity for the establishment to look for someone if Prayuth can't control the situation."
In recent days, students in university and school campuses across the country criticized what they described as Thailand's democratic deficit and chanted for Prayuth to step down. Each demonstration was relatively small but in total thousands may have turned out.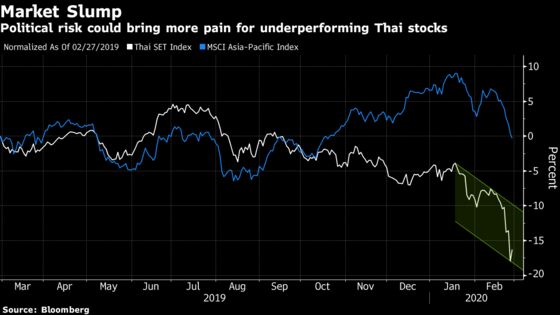 Thousands of people also rallied in December and January either in support of Future Forward, or to protest against the government. At the same time, the political temperature remains lower than during Thailand's past episodes of bloody street unrest.
In parliament, Prayuth and five other ministers were grilled this week in a censure debate that ended Friday with votes on motions of no-confidence. The premier and the ministers won the votes by substantial margins.
During the debate, the premier had rejected allegations of corruption over a land deal by his father, as well as claims of army-run online propaganda campaigns against the opposition.
A spokesman for Palang Pracharath, a party carved out of the junta and which is the anchor of the ruling coalition, said the ongoing debates are part of the normal democratic process.
"These events aren't affecting the confidence people have in the prime minister," said the spokesman, Thanakorn Wangboonkongchana. "He can clarify every issue raised in parliament, and student movements are platforms to express their opinions. The majority of people will still back him."
Future Forward was disbanded last week and its founders banned from politics for a decade, including 41-year-old party leader and former tycoon Thanathorn Juangroongruangkit.
Though less than two years old, Future Forward was the second-largest opposition party. Thanathorn rattled the royalist establishment by attracting younger voters to a reformist agenda that included tearing up the current charter, breaking up oligopolies and preventing coups in a country with a history of army takeovers.
He and fellow party founders have pledged to continue pushing for change under a new banner, the Future Forward Committee. Thanathorn has signaled further protests are possible.