A Billion Dead Chickens Show Toll of Strike Crippling Brazil
(Bloomberg) -- A paralyzing truckers' strike in Brazil showed few signs of easing on Friday, prompting the president to deploy national security forces amid warnings of a calamity in one of the world's largest cities and potentially devastating livestock losses.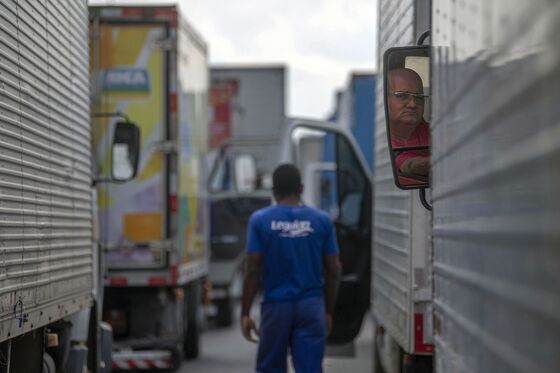 Sao Paulo, a megacity that's home to more than 12 million people, declared a state of emergency and warned that shortages caused by the five-day strike may cause a state of public calamity, while export group ABPA said a billion chickens and 20 million swine may die in coming days due to a lack of feed. Rio de Janeiro, meanwhile, is in a "state of attention" with shortages of fuel, food and public transport. None of the gas stations in Brasilia, the nation's capital, had any fuel by Friday evening, according to local media reports.
President Michel Temer said he's called for the deployment of national security forces to unblock roads and asked governors to do the same.
"Those who act in a radical manner are harming the population and they will be held responsible," Temer said in a televised national address on Friday afternoon.
Later that evening, chief of staff Eliseu Padilha announced that the president had signed a decree known as the Guarantee of Law and Order (GLO), granting the armed forces police powers nationwide from May 25 to June 4. Raul Jungmann, the minister of public security, said Temer was also editing a decree to allow the requisition of goods to ensure supplies to the population at large.
The Supreme Court also issued an injunction declaring the strike illegal and authorizing the government to unblock roads.
The protests began on Monday, as truck drivers obstructed federal highways in almost every Brazilian state in protest at soaring diesel prices amid low inflation. On Wednesday state-run oil company Petrobras cut the price of diesel by 10 percent for two weeks, but that retreat spooked investors and also failed to appease the truckers.
Petrobras shares plunged after the announcement and are down at least 20 percent this week, leading losses in the Ibovespa index, which has lost 4.3 percent in the period. That pushed the stock market's monthly drop to 7.7 percent, one of the worst performers among major global benchmarks. The currency lost 4.3 percent in May amid generalized turmoil in emerging markets and as the central bank unexpectedly halted its easing cycle.
While the government said on Thursday evening that eight of 10 unions agreed to a proposal that would suspend price increases and lower taxes on diesel, the country's truckers' confederation issued a statement on Friday saying it had committed to just "pass along" the offer, and not to end the strike.
As part of the accord announced on Thursday, diesel prices, which had been adjusted daily according to market rates, will now be fixed for 30 days. The government and state-run oil company Petrobras will split any extra costs.
Still, truckers group Abcam -- which didn't take the government's deal -- called on its members to lift their road blocks, while asking them to maintain pacific protests. Abcam represents about 700,000 of roughly one million self-employed truck drivers.
Padilha told reporters on Friday evening that strike was gradually winding down, with around 45 percent of the blockaded highways open to traffic.
Authorities are struggling to calm the chaos let loose by the strike, set off by fuel-price increases of about 50 percent over a year. Temer fumbled initial attempts to pacify the situation, and the rapidly-escalating sense of chaos looks set to discredit yet further his deeply unpopular administration.
While the president has abandoned plans to run for re-election in October, those candidates associated with his government or even those merely sympathetic to its market-friendly agenda have been dealt a major blow. Brazil's presidential contenders have been reluctant to criticize the strikers, though some have questioned their tactics.
Ciro Gomes, the leading leftwing hopeful after jailed ex-president Luiz Inacio Lula da Silva, described Petrobras' market-driven pricing policy as a "fraud which keeps the whole nation hostage".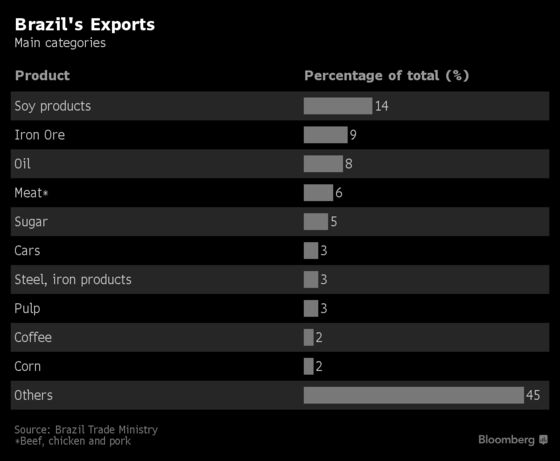 Carmakers halted production on Friday, while airlines notified customers of flight cancellations due to lack of fuel in several of the country's main airports. The largest port in Latin America was said to be running out of soybeans.
Brazil, which is larger than the continental U.S., is specially vulnerable to disruption in transportation. It relies heavily on trucks to move cargo as it has only a small network of railways that cater mostly to shipping raw materials such as iron ore or soybeans.