Street Protests Flare on Anniversary of Social Unrest in Chile
(Bloomberg) -- Chilean police arrested 450 people while at least two died as protests in Santiago and other cities turned violent overnight a month before highly-contested presidential elections.
Most people demonstrated peacefully on Monday in major metropolitan areas around the country. As evening came, some set barricades on fire, forced subway stations to close and ransacked stores and government offices, according to TV images. Nearly 500 violent acts were reported, police said.
"We are in the presence of criminals - several hundred, or even thousands throughout Chile - who do not represent the vast majority of Chileans," Interior Minister Rodrigo Delgado said late on Monday. "The vast majority has sought an institutional path."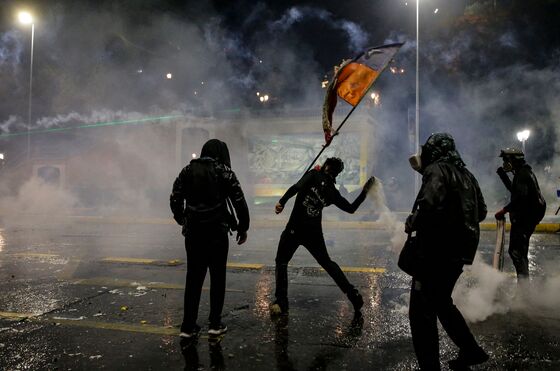 Social tensions are running high again as one of Latin America's richest nations nears the Nov. 21 first round presidential vote. The leading contenders are a former student protest leader who has vowed to heed demands for more equality and, on the other hand, a conservative who has pledged law and order. At stake are the rules that have turned Chile into an investor favorite.
The incidents quickly triggered finger pointing from politicians amid a hectic presidential campaign.
In televised remarks on Tuesday, Interior Ministry Undersecretary Juan Francisco Galli said left-wing lawmakers including leading presidential candidate Gabriel Boric were responsible for fomenting violence.
Boric said it's been two years since Chileans "got fed up with abuses and opened to a process of change," according to Twitter message early on Monday. He later condemned the violence, saying that "we will be able to construct a dignified and just Chile through unity and respecting one another."
Jose Antonio Kast, the right-wing presidential contender who's risen sharply in polls, wrote on his Twitter early on Monday that there was nothing to celebrate given violence associated with demonstrations. He later posted several videos depicting looting, including one where a person appears to try to break into a store while holding a gun, and said he was committed to "bringing back order, justice and peace."
The protests marked the two-year anniversary of the start of social unrest in 2019, when millions of people took to the streets to demand better public services such as healthcare and education, as well as the ouster of billionaire President Sebastian Pinera. 
At that time, Pinera initially responded by calling in troops to restore order as protests turned violent, leaving looted stores, burned subway stations and over 30 deaths. He later agreed to a referendum that rejected the constitution dating from the Augusto Pinochet dictatorship and paved the way for a new charter.
On Monday, the Constitutional Assembly, elected in May, began the process of debating the content of the country's new charter. That body first started work in July.