Stormy Daniels Suit Over Trump 'Hush' Payment Hangs by a Thread
(Bloomberg) -- Stormy Daniels isn't eager to walk away from her spat with President Donald Trump, but a federal judge sounded like he's ready to close the books on the adult film star's lawsuit over a 2016 "hush" payment.
During a hearing Tuesday in Los Angeles, the judge interrogated the lawyer representing Daniels, whose real name is Stephanie Clifford, over what legal basis there was to let her continue to sue over the validity of the non-disclosure agreement.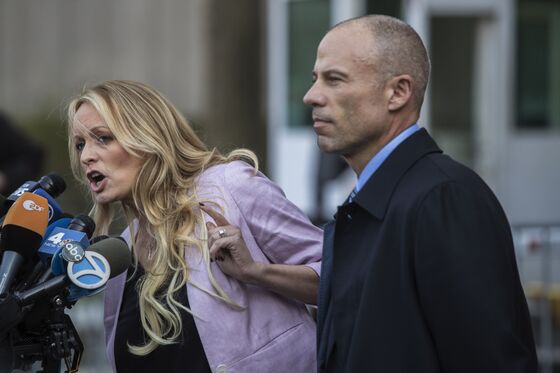 Her attorney, Michael Avenatti, was trying to convince the judge that the lawsuit isn't moot even though both Trump and the company created by his former lawyer, Michael Cohen, to facilitate the payoff have promised they won't enforce the accord.
"Mr. Avenatti, you're comparing apples and oranges," U.S. District Judge James Otero said in response to the cases the lawyer cited to support his argument. "You're arguing from emotion."
The judge didn't say how he will rule. Clifford still has a separate defamation claim against Cohen in the lawsuit and a hearing is scheduled for next month on Cohen's request to get that thrown out.
Clifford, who alleges she had a tryst with Trump in 2006 when he was the host of the NBC reality show "The Apprentice," sued in March to invalidate an agreement she signed shortly before the 2016 presidential election to buy her silence.
In the months leading up to Cohen's guilty plea in August to campaign finance violations, Clifford's case made a TV personality of Avenatti, who at one point expressed interest in running for president in 2020.
"For this court to condone the behavior of a convicted felon, that is not justice," Avenatti said in a heated exchange with the judge.
Otero last year threw out a separate defamation lawsuit Clifford brought against Trump and awarded the president $293,000 in attorney fees.
The case is Clifford v. Trump, 2:18-cv-02217, U.S. District Court, Central District of California (Los Angeles).