Stormy Daniels Says Trump's Threats Are Based on a 'Giant Lie'
(Bloomberg) -- President Donald Trump can't just walk away from a $130,000 hush deal with Stormy Daniels after having conducted a six-month public relations campaign to discredit and bully the adult film actress to keep her quiet, her lawyer said.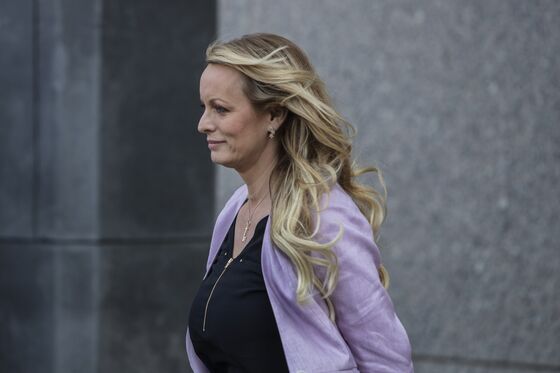 Trump and his former lawyer, Michael Cohen, both filed court papers in recent days saying they wouldn't try to enforce the October 2016 contract to keep Daniels, whose legal name is Stephanie Clifford, from talking about a 2006 sexual encounter she says she had with Trump, or challenge claims that it wasn't valid. They also want Daniels to return the money.
Daniels's lawyer, Michael Avenatti, said in a filing Monday that their change of heart was evidence Trump and Cohen had deceived the court and the public by insisting the hush payment was valid and enforceable. Daniels was initially threatened with having to pay more than $20 million in damages for talking.
"These threats were all premised on a giant lie," Avenatti said in the filing in Los Angeles federal court. "If they are now to be believed, Mr. Trump and Mr. Cohen never had a good faith basis to assert that they would be able to enforce the settlement agreement."
Avenatti urged the judge not to dismiss the case, saying Trump's and Cohen's proposal is just a settlement offer which Daniels won't accept. He said it's in the public interest to keep the case going so the truth about the agreement can be made public.
Avenatti said he'd meet with lawyers for Trump and Cohen to discuss the future of the case. A hearing is scheduled for Sept. 24.
Trump and Cohen would need to make several concessions to get out of the lawsuit, Avenatti said, including admitting in a final judgment that the hush deal violated campaign finance laws, as Daniels alleges, because it was intended to influence the presidential election. They also haven't offered to pay Daniels's legal fees and expenses, Avenatti said.
Cohen in August pleaded guilty to illegal campaign finance charges over the payment and told a judge under oath that Trump directed him to do it, bolstering Avenatti's claims.
"Needless to say, plaintiff and her counsel were proven correct in all respects," Avenatti said in Monday's filing. "Mr. Cohen is a criminal. And Mr. Trump is a co-conspirator."
Trump's attorney Charles Harder didn't immediately return a call seeking comment on the filing. The president has repeatedly denied any wrongdoing and the government's charges against Cohen do not include allegations against Trump.
Trump's about-face on the hush deal was a surprise following months of attacks against Daniels and Avenatti, who want to depose the president under oath as part of the litigation.
"Mr. Trump covenants that he will not bring any action, proceeding or claim against Ms. Clifford to enforce any of the terms of the settlement agreement," Harder said in a filing over the weekend.
It was a different story in May, when Trump tweeted that the settlement was "in full force and effect" and that Daniels's claims were "false and extortionist."

Records obtained by Bloomberg News show that Cohen won a temporary restraining order against Daniels at a closed-door arbitration proceeding on Feb. 27. But based on what Trump and Cohen now claim about the deal, the arbitration was baseless, Avenatti said.