Judge Warns Roger Stone About Treating Proceedings Like Book Tour
(Bloomberg) -- Roger Stone, the indicted longtime adviser of President Donald Trump, was warned by a judge against treating his pretrial proceedings like a "book tour."
U.S. District Judge Amy Berman Jackson said she's considering issuing an order barring Stone's lawyers and prosecutors from discussing the case publicly and gave them until the end of next week to file a response to her proposal. Jackson said the parties would still be free to talk about anything including foreign relations "or Tom Brady," but not this case.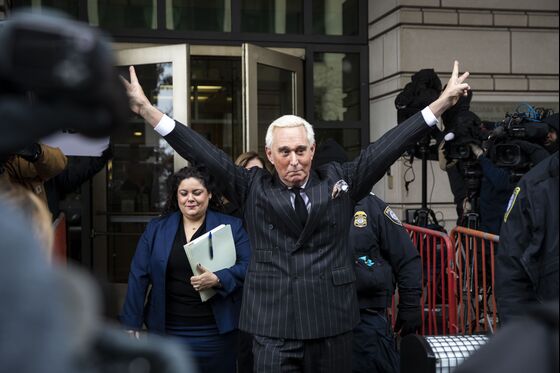 "This is a criminal case, not a public relations campaign," Jackson said, adding that while she understands Stone wants to tell his side of the story, "there's no question at this point he's had that opportunity."
She set no trial date but discussed with attorneys holding it somewhere between July and October. Another hearing is scheduled for March 14.
Stone, dressed in a black pinstripe suit, left the courthouse flashing a Nixonian victory sign without commenting.
On Tuesday, Stone pleaded not guilty to charges he lied to lawmakers, engaged in witness tampering and obstructed a congressional investigation.
In an indictment obtained by Special Counsel Robert Mueller on Jan. 24, the political operative was charged with lying to the House Intelligence Committee about conversations he'd had with Trump campaign officials and efforts to communicate with WikiLeaks in 2016 when the site was releasing stolen and damaging information about Hillary Clinton.
He is also accused of lying about whether he still was in possession of email and text messages he exchanged with his WikiLeaks intermediaries, conspiracy theorist and author Jerome Corsi and another man believed to be radio host Randy Credico.
The case is U.S. v. Stone 19-cr-18, U.S. District Court, District of Columbia (Washington).