Stone Says He's Innocent, Braces for the 'Fight of His Life'
(Bloomberg) -- Roger Stone said the federal indictment against him is politically motivated and that he's preparing for the "fight of his life" as he faces up to what will probably be a costly legal fight.
A longtime ally of President Donald Trump, Stone told Fox News he'll plead not guilty and added that several aspects of the 24-page indictment are "simply not true." He rebuffed speculation that Trump is the unidentified campaign official who ordered him to find out about WikiLeaks. The entire incident, he said, never happened.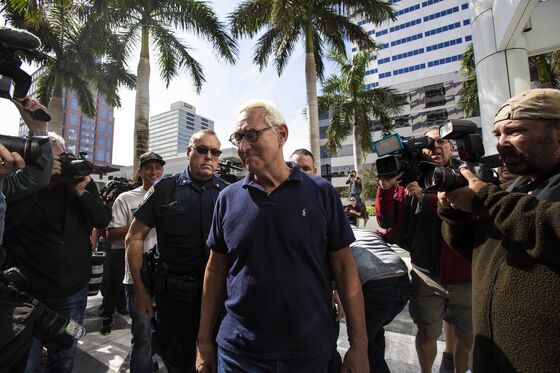 Stone expects prosecutors will seek to wear him down financially and try to make him testify against the president.
"I'm in for the fight of my life," he said. "But I will not quit. I will not fold. I will not bend. I will not bear false witness against the president."
In a separate interview with CNN, Stone said he's never been in touch with Trump about a possible pardon.
"I've never had any discussion with him or communication with him regarding that. I have no idea what he might do," he said.