Stimulus Talks Could Snag on Social Security Review Panels
(Bloomberg) -- The $1 trillion Republican stimulus proposal comes with a measure that could curb federal spending in the future by reducing costs tied to Social Security, Medicare and highway trust funds.
Among the bills that make up the GOP plan is one that would establish congressional review boards to examine the long-term solvency of the three trust funds, a topic that long has been politically fraught.
The Highway Trust Fund faces some of the most urgent shortfalls, with the Congressional Budget Office projecting it could run out of money by late 2021 or early 2022. Social Security could also face an inability to pay retirees in a timely manner starting in 2034, according to the Social Security trustees annual report.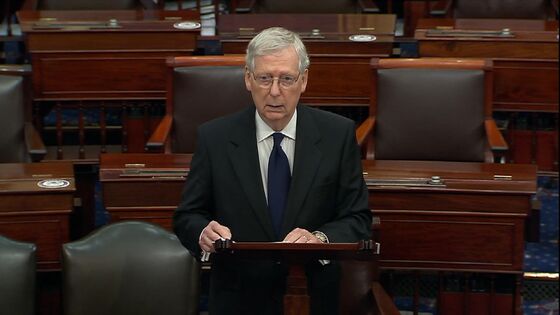 Proponents of the measure, which include some Democrats, say that addressing the projected shortfalls now would prevent draconian cuts or tax hikes later. The legislation would create congressional panels mandated to draft bipartisan legislation that restores solvency of the trust funds, and the bills would receive fast-track consideration in each chamber.
"This is the right time to act. Our trust funds are approaching insolvency even more quickly because of the pandemic," Senator Mitt Romney, a Utah Republican who is leading the effort, said Monday on the Senate floor. "It is far better to prepare and hopefully prevent a crisis than wait for a crisis to fall upon us."
The measure has bipartisan backing in the Senate, as well as support from some moderate House Democrats. However, it is facing opposition from House leaders who say the legislation is a roundabout way to cut Social Security benefits.
"The last thing struggling Americans need right now is a secret panel designed to slash their earned benefits and further undermine their economic security," House Ways and Means Chairman Richard Neal, a Massachusetts Democrat, said in a statement. "I wholeheartedly object to the TRUST Act and will fight against its nefarious inclusion in any upcoming relief package."
The measure's inclusion in the stimulus is likely to be a point of contention between Republicans and Democrats as they hash out a compromise in the coming weeks that will address state and local funding, money for schools and extending expiring unemployment payments.
Some Republicans have balked at their own party's $1 trillion proposal and said Congress should be more focused on cutting spending. Democrats have proposed to spend at least $3.5 trillion, but the increased spending to combat the coronavirus has led some members, such as the so-called Blue Dog Democrats, a group of centrist House members, to say Congress needs to focus on ballooning deficits in light of immediate spending required now.