Stimulus Stalemate Lingers as Senate Returns to Washington
(Bloomberg) -- The Senate returns to Washington Tuesday with the Trump administration and Democrats no closer to agreement on a new virus relief package than they were when talks broke off in early August -- despite the pressure of the U.S. election in 56 days.
Majority Leader Mitch McConnell will try to break the logjam this week with a scaled-down $500 billion stimulus plan that the White House supports. Although that's half of what the GOP offered at the end of July, McConnell is struggling to get Republicans fully behind it as newly-energized fiscal hawks in the party balk at adding to the estimated $3.3 trillion fiscal 2020 deficit.
"I hope by the end of the week, we can begin moving forward with that," Treasury Secretary Steven Mnuchin said Sunday on Fox News. He called the smaller measure "targeted."
The skinny -- or targeted -- stimulus has already been panned by House Speaker Nancy Pelosi and Democrats. They haven't budged from their proposal for a $2.2 trillion relief package that Republicans previously rejected.
In the middle of that, both parties will be negotiating a stopgap spending measure to prevent a government shutdown when the fiscal year ends on Sept. 30. Pelosi and Mnuchin have agreed they don't want the stimulus impasse to hinder work on the stopgap.
Meanwhile, there may be agitation among rank-and-file lawmakers facing voters on Nov. 3 to include some economic relief.
McConnell on Friday said he wanted to get another relief package through Congress but that it will be "exceedingly difficult because of the proximity to the election."
Still, White House Chief of Staff Mark Meadows, who has talked with a handful of moderate Democrats in recent weeks, said Tuesday he was optimistic public pressure would push lawmakers into a compromise in the coming two weeks. "There is a groundswell of support among rank and file democrats and republicans to suggest that there is some kind of compromise," he said in an interview with Fox Business.
Friday's monthly jobs report from the Labor Department, which showed the unemployment rate fell by almost 2 percentage points in August to 8.4%, also eased some of the pressure on Republicans to move closer to the plan proposed by Democrats.
Still, it didn't fully erase concerns about the economy. Payrolls remain about 11.5 million below the pre-pandemic level, and the number of permanent job losers rose from last month by more than half a million to 3.41 million. A host of companies, from airlines to casinos to the beverage sector, have announced plans to cut workers that were initially furloughed.

Ryan Sweet, head of monetary policy research at Moody's Analytics Inc., said the U.S. needs to maintain job gains, "but without fiscal stimulus that will be hard to do." Several Federal Reserve officials have hammered that point in recent weeks.
GOP senators plan to meet Wednesday behind closed doors to discuss whether to try to get a vote on a smaller relief package. That would allow vulnerable Senate Republicans up for re-election to say they tried to provide economic relief, despite Democratic opposition, when they head home to campaign.
The scaled-back plan would provide a $300-per-week unemployment benefits enhancement, $105 billion for schools, a $10 billion grant to the U.S. Postal Service, funding for the Paycheck Protection Program for small businesses, $45 billion to the Department of Health and Human Services for vaccines and testing needs, and liability protections for employers.
It wouldn't include another round of $1,200 checks to individuals -- something that President Donald Trump wants -- or any aid to state and local governments, a key demand of Democrats, according to a Senate Republican aide said.
Pennsylvania GOP Senator Pat Toomey, a skeptic about the benefits of another massive stimulus program, said it would be good if they can reach a consensus, but he wants something substantially below the $1 trillion originally offered by McConnell.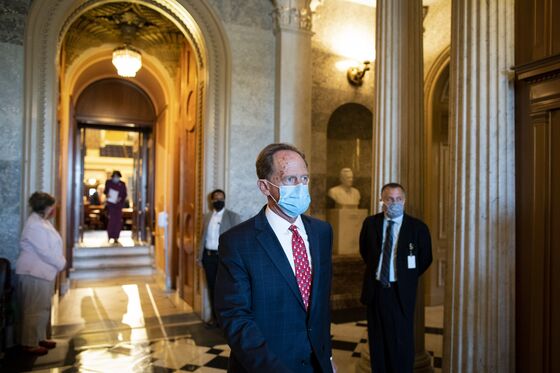 "I'm not a fan of a lot more spending," Toomey said.
It's unclear if McConnell can marshal a 51-vote majority even for the smaller proposal. He's previously said that as many 20 Senate Republicans are against any additional spending.
Senator Deb Fischer of Nebraska told reporters Friday that Republicans have had daily conference calls with Mnuchin and Meadows.
"We'll see if we're able to get something put together," she said of a new stimulus proposal. Asked whether Republicans will all agree, she said, "I don't speak for my colleagues."
If McConnell tries to bring the skinny bill up, it will be a mere exercise in party messaging. It would need 60 votes to advance and it almost certainly would be blocked by Senate Democrats, who have 43 votes in the chamber.
Senate Democratic leader Chuck Schumer has made clear his opposition.
"Republicans may call their proposal 'skinny,' but it would be more appropriate to call it 'emaciated,"' he wrote in a Thursday letter.
The looming election will create pressure points for Trump as well as for incumbents in the House and Senate. The White House is pushing for stimulus payments for individuals to go out before the Nov. 3 election.
"Look, nobody wants to give direct payments to American families more than President Donald Trump," Vice President Mike Pence said on CNBC Friday.
Immediately before their August break, two Senate Republicans trailing their Democratic challengers in polls -- Susan Collins of Maine and Martha McSally of Arizona -- helped introduce a bill that has a higher unemployment benefits enhancement than the one in the scaled-down proposal.
In the House, meanwhile, Democrats from swing districts are poised to increase their pressure on Pelosi to get a deal. The moderate Blue Dog Coalition sent the Speaker a letter on Aug. 21 urging compromise, and vulnerable first-term Iowa Democrat Cindy Axne followed up last week with a letter demanding action on a smaller package.
A key decision for Pelosi and other Democratic leaders is the timetable for a temporary government spending resolution.
Mnuchin said Sunday his expectation is that a stopgap deal would run through the beginning of December, although specifics have not been ironed out.
"The most important thing is to make sure at the end of the month, we don't shutdown the government and we get something past the election."
But some Democrats are pushing for a stopgap into early 2021, to avoid the possibility of having to negotiate with a lame-duck president if Trump loses.
"Frankly, shutting down the government in November and December is a far more acceptable risk for them -- if the scenario is they lose the White House and Senate majority in January," Democratic Representative Gerry Connolly of Virginia said of Republicans.
Connolly said Democrats lost leverage by agreeing to keep the stopgap bill and stimulus talks separate.
Connecticut Democratic Representative Jim Himes said he thinks Trump ultimately will push to get a deal done with Democrats later in the month if he's still trailing Democrat Joe Biden in polls.
"The president of the United States understands one thing and perhaps one thing only, and that is what is good for him personally," he said. "And it is good for him personally to get some kind of a deal done."