Democratic Debate Draws Smallest Audience: Campaign Update
(Bloomberg) -- The television audience for Tuesday's Democratic primary debate was the smallest of any forum so far this year, according to Nielsen Media Research ratings.
Just 8.5 million people tuned into the debate, which was televised on CNN and co-sponsored by the New York Times. That's less than 8.7 million for the July 30 debate also televised on CNN.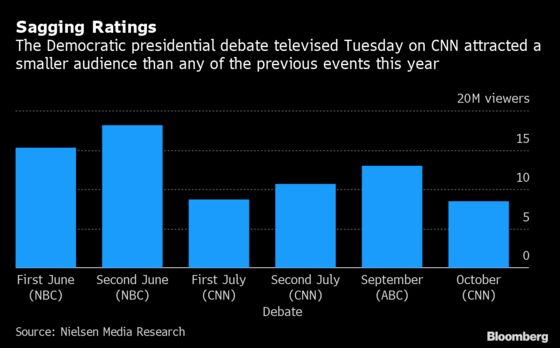 Cable debates typically get lower ratings than those on over-the-air networks, and Tuesday's event in Westerville, Ohio, also competed against a deciding National League Championship Series game between the Washington Nationals and Los Angeles Dodgers.
But ratings this year are still historically high by pre-Trump standards, getting an average of 12.4 million viewers. The highest-rated primary debate before 2016 was a Barack Obama-Hillary Clinton matchup in New Hampshire in 2008, which attracted 9.3 million viewers.
Biden Calls Warren's Mideast Plan a 'Disaster' (3:02 p.m.)
Joe Biden sought to contrast his extensive foreign policy experience Wednesday by warning that Elizabeth Warren's call to remove U.S. troops from the Middle East would be a "disaster" if carried out.
"I had never heard anyone say with any serious background in foreign policy that we should pull all troops out of the Middle East," he told reporters in Columbus, Ohio. "I hope she didn't mean it in a literal sense because it would be, I think, a disaster for American security and American foreign policy."
Biden's comments came ahead of a foreign policy speech planned for later Wednesday in Iowa. Biden worked on international issues for decades as vice president and as chairman of the Senate Foreign Relations Committee.
Warren said during the debate of Democratic candidates Tuesday that "I don't think we should have troops in the Middle East." But she added that a withdrawal would come only with a negotiated agreement and not abruptly, unlike President Donald Trump's sudden pullout of U.S. forces from Syria. Her campaign has since added that she was only referring to combat troops.
"I'm not sure exactly what she meant by it," Biden said Wednesday. "If she meant pulling all our fleet out of eastern Mediterranean or the Persian Gulf, I think it would be an absolute disaster for American security and American foreign policy." -- Jennifer Epstein
'Squad' Member Ilhan Omar Endorses Sanders (1:53 p.m.)
Minnesota Representative Ilhan Omar formally endorsed Bernie Sanders for president in a video posted on social media, a day after announcing that she and fellow "Squad" member Alexandria Ocasio-Cortez would be campaigning with him.
"Senator Bernie Sanders is the only candidate that has built a movement and continues to build a movement that transcends gender, ethnicity, religion," Omar said. "And we know that in order to take on Trump, we're going to need a unifier."
Omar is one of four first-term, minority congresswomen known as the "Squad" who have been engaged in a feud with President Donald Trump after he said they should return to their country of origin and made other comments questioning their patriotism.
Omar and Ocasio-Cortez will join Sanders at a rally in New York on Saturday. The two hold appeal to younger progressive voters and could help Sanders, 78, ease worries about his age weeks after he had a heart attack that sidelined his campaign for two weeks. They also are picking Sanders over Elizabeth Warren, the other progressive candidate in the race who is tied for first place in polls with Joe Biden.
Representative Ayanna Pressley, another so-called Squad member from Warren's state of Massachusetts, hasn't yet endorsed either candidate. -- Emma Kinery
Steyer Spends $47 Million of His Own Money (6:00 a.m.)
Billionaire Tom Steyer spent $47 million of his own money on his presidential campaign in the third quarter, more than the second-biggest spenders, Elizabeth Warren and Bernie Sanders, combined.
The former hedge fund manager's filing with the Federal Election Commission shows that after entering the race in July he brought in $49.6 million, of which all but $2 million were his own funds.
The big outlays allowed Steyer to rise enough in the polls to qualify for the Democratic debate on Tuesday at Otterbein University in Westerville, Ohio. He spoke for a little more than seven minutes, according to a New York Times tracker. Steyer will get a chance to mix it up with many of his Democratic rivals in the November debate in Georgia, for which he has also qualified.
He made the cut in part by attracting 165,000 donors to his campaign to meet another threshold the Democratic National Committee has set for grassroots fundraising. In his 2016 run for the White House, Donald Trump spent a total of $66.1 million.
On entering the race, Steyer said he would put $100 million into his campaign, a sum he will reach by January if he continues to spend at this pace. He ended September with $2.6 million cash on hand. -- Bill Allison
Joe Biden will attend the Women's Leadership Forum Conference organized by the Democratic National Committee in Washington on Thursday. Warren will deliver remarks at the Women Will Vote gala in Washington Thursday evening.