Biden Reports Donation Surge, With No Specifics: Campaign Update
(Bloomberg) -- Joe Biden raised more money in the past two months than he did in the third quarter, his campaign boasted in a fundraising pitch emailed to supporters.
The email, which was first reported by the Associated Press, did not provide a specific amount raised in October and November, what percentage came from grassroots donors contributing online or other details.
Biden reported raising $15.7 million from July through September, a disappointing total for a front-runner. Bernie Sanders took in $25.3 million in the same period, while Elizabeth Warren raised $24.6 million and Pete Buttigieg, little known before entering the race, had $19.1 million. Biden's campaign spent $1.9 million more than it raised, and ended September with just $9 million in the bank, well behind the amounts amassed by some of his rivals.
Supporters of Biden were concerned enough about his financial position to start a super-PAC in October. The group, Unite the Country, plans to defend him from attacks made by President Donald Trump and his allies while he navigates the primaries. Trump's campaign has run ads criticizing the work Biden's son Hunter Biden did for a Ukrainian energy company. It also criticizes Biden for threatening to withhold U.S. aid from the country unless it fired its top prosecutor.
Sanders Endorsed by Iowa Progressive Group (2:30 p.m.)
Iowa Citizens for Community Improvement, an influential progressive group in the first nominating state, endorsed Bernie Sanders for president, as he and Elizabeth Warren continue to fight for their party's left-leaning voters.
Sanders is virtually tied with Warren in Iowa with the Vermont senator at 18.3% to her 17.7%, according to the Real Clear Politics average of polls. Both lag behind Pete Buttigieg, who leads with 24%. Nationally, Warren's standing in the race declined last week, with a Quinnipiac poll showing that she had dropped 14 points since October.
In an email announcing the endorsement Monday, Iowa CCI Action Board President Cherie Mortice emphasized Sanders' decades-long track record advocating for progressive causes.
"Some 2020 presidential candidates have been embracing or acknowledging movement politics. But only one of them has been doing it for decades," Mortice wrote. -- Emma Kinery
Steyer Buys Trump Slogan URL on Cyber Monday (11:58 a.m.)
Billionaire and Democratic presidential candidate Tom Steyer's "Cyber Monday Special" was purchasing the website domain for President Donald Trump's 2020 campaign slogan "Keep America Great."
The site www.keepamericagreat.com directs users to purchase Steyer bumper stickers that read "Trump is a fraud and a failure."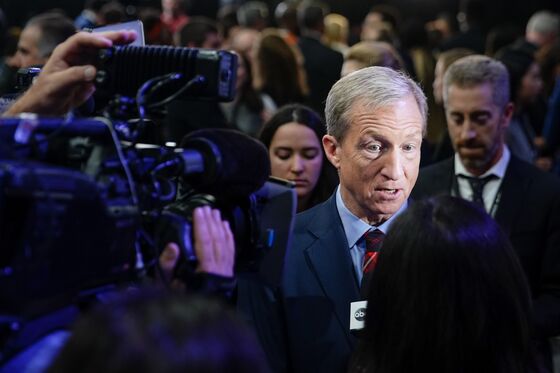 "Trump's campaign prides itself on hoarding websites of political opponents, but they forgot to pick up the URL for their signature re-election slogan, 'Keep America Great,'" Steyer's campaign said in a statement. "Now, the website offers the opportunity to purchase a bumper sticker that highlights what a majority of Americans already know about Donald Trump."
Trump has made a habit out of swiping website domains from rivals, preventing them from using the URLs. After Joe Biden announced his Latino outreach imitative "Todos Con Biden," in October, Trump's campaign bought the site todosconbiden.com. The URL directs to a page that reads "Oops, Joe forgot about Latinos" and a link to the "Latinos for Trump" campaign site. In 2015 Trump purchased the namesake domain of then-opponent Jeb Bush, JebBush.com, and had it redirect to the Trump's website.
Since 2017, Steyer has run Need to Impeach, a political group devoted to removing Trump from office. -- Emma Kinery
Biden is on an eight-day, 18-county bus tour of Iowa through Saturday.
Elizabeth Warren speaks at a DNC IWillVote Gala in Boston on Thursday.
(Michael Bloomberg is also seeking the Democratic presidential nomination. Bloomberg is the founder and majority owner of Bloomberg LP, the parent company of Bloomberg News.)