Trump, DeJoy Ordered to Turn Over Records on Postal Changes
(Bloomberg) -- President Donald Trump and Postmaster General Louis DeJoy were ordered by a federal judge to rapidly start handing over evidence sought by 14 states suing over recent U.S. Postal Service changes they fear will undermine mail-in voting.
U.S. District Judge Stanley Bastian said at a hearing Thursday in Yakima, Washington, that the administration needed to quickly offer "some assurance to the American public that the Postal Service is up to the challenge of delivering ballots to the voters and back to the states so they can be appropriately counted," even as it continued to seek the lawsuit's dismissal.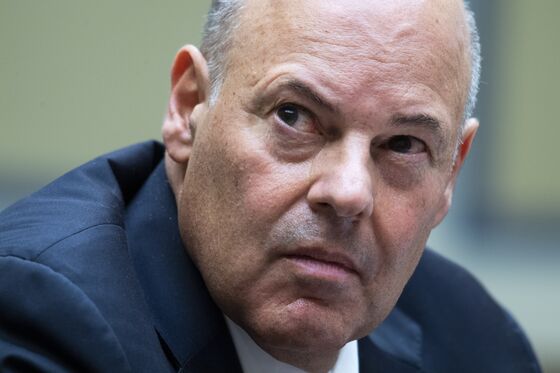 "Everyone in this country is relying on the Postal Service to do their job," said Bastian, a Barack Obama appointee. He gave the administration 10 days to produce the records.
"We don't have much time between now and the election," he said. "I think everyone on this call wants their vote to be counted."
The ruling is an early setback for the Trump administration, which is facing three multi-state lawsuits over "transformational" changes implemented by DeJoy in recent months, just as the president began falsely claiming that mail-in voting will lead to a massive fraud. The administration had argued the states' demands for evidence were burdensome and overly broad.
The states, led by Washington Attorney General Bob Ferguson, filed the suit last week and subsequently asked Bastian to expedite the schedule for discovery. Among the information they're seeking are lists of mailboxes and sorting machines slated for removal and details on USPS policies for handling election-related mail.
In a court filing before Thursday's hearing, the states said DeJoy's "vague assurances that everything will be fine" with mail-in voting were no substitute for getting the information.
Another hearing could take place as soon as Sept. 17 on the Trump administration's expected request to dismiss case and the states' planned motion for an injunction to block or reverse USPS operational changes.
The USPS didn't immediately respond to a request for comment.
The states said their requests are "entirely understandable and urgent" because DeJoy's surprise commitment to delay more changes until after the election in November has "only resulted in more confusion." They claim, for example, that DeJoy's testimony to Congress on Monday affirming that voter registration forms and mail-in ballots will be delivered using First Class mail, rather than slower but cheaper services, contradicts what's on the postal agency's website.