Perry Won't Comply With Demand for Documents: Impeachment Update
(Bloomberg) -- House impeachment investigators ended a week of closed-door questioning in the inquiry into President Donald Trump's interactions with Ukraine. Testimony that had been scheduled for Friday from Laura Cooper, a deputy assistant secretary of defense, was delayed until Oct. 24.
Here are the latest developments:
Perry Won't Comply With Demand for Documents (6:52 p.m.)
Outgoing Energy Secretary Rick Perry won't comply with impeachment investigators' demand for documents related to his role in the Trump administration's interactions with Ukraine, the department told lawmakers Friday, according to a person familiar with the agency's letter.
Perry plans plans to resign this year.
Three House committees said in an Oct. 10 letter they subpoenaed the documents to help determine whether Perry played a role in "conveying or reinforcing the president's stark message" to Ukraine's president about a possible investigation into former Vice President Joe Biden and his son. Friday was the deaadline they set to turn over the documents.
Perry joins other Trump administration officials who have refused to comply with House subpoenas for documents. It was unclear whether Perry would testify if called to do so.
Steyer Calls for End to Secret Hearings (3:25 p.m.)
Billionaire investor and Democratic presidential candidate Tom Steyer, an early advocate for impeachment, called on House Speaker Nancy Pelosi to immediately open the inquiry's hearings to the public.
"Now is the time for House Democrats to open up the process and let the American public see the full extent of Trump's criminal behavior," Steyer said in a statement Friday. "Holding public impeachment hearings will ensure the crimes committed by him and those around him come out from the shadows and onto the national stage. It will also put pressure on Senate Republicans by showing voters in their states the true extent of this president's impeachable offenses."
Steyer, founder of the group Need to Impeach, has put more than $12 million of his own fortune behind ads calling for impeachment.
Republicans have complained about the closed-door hearings from the beginning of the impeachment inquiry, saying they deprive Trump of due process. House Intelligence Committee Chairman Adam Schiff says the hearings are secret because the House is acting as a grand jury and he doesn't want to "give the president or his legal minions the opportunity to tailor their testimony and in some cases fabricate testimony to suit their interests."
Pompeo Calls Inquiry 'Deeply Troubling' (2:01 p.m)
Secretary of State Michael Pompeo took time from his lightning trip to Turkey, Israel and Belgium to call Democrats' handling of the Ukraine impeachment inquiry "deeply troubling," saying he isn't being informed about testimony provided to the House by former State Department staffers.
"I have an obligation to protect the State Department," Pompeo said in an interview with Politico. "Not only classified information but private conversations that are confidential are information we don't want in the hands of others. And we've not been permitted to see what it is our former employees have told this committee."
Pompeo declined to discuss Marie Yovanovitch, the former U.S. ambassador to Ukraine whom Trump denigrated in a phone call with the country's new leader, or the role played by Trump's personal attorney Rudy Giuliani, saying he had "nothing to add," according to Politico. -- Nick Wadhams
GOP Congressman Wants Facts in Inquiry (11:50 a.m.)
GOP Representative Francis Rooney said he was "shocked" by acting White House Chief of Staff Mick Mulvaney's comments Thursday that aid for Ukraine was withheld in part to pressure that country to investigate Democrats. He said he didn't believe Mulvaney's later statement walking back those comments.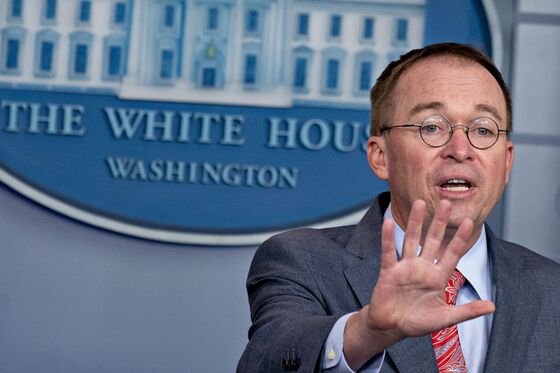 "How in life can you do those kinds of things when you've just said it right there on national TV?" Rooney said. "It's not an etch-a-sketch."
The Florida Republican said there's still "a lot of water to flow down under the bridge" on impeachment, without specifying where he stands on the House inquiry.
"I want to get the facts and do the right thing," Rooney said. "Because I'll be looking at my children a lot longer than I'm looking at anybody in this building." -- Dan Flatley
State, Defense Officials Lined Up to Testify (11:14 a.m.)
House impeachment investigators are set to hear from William Taylor, the acting ambassador to Ukraine, in a closed session on Tuesday, according to an official working on the inquiry.
The following day they'll hear from Philip Reeker, a State Department official for European and Eurasian Affairs, and Michael Duffey, the White House budget office associate director for national security programs.
On Oct. 24, the committees plan to hear from Cooper, the Defense official whose testimony was postponed from Friday, and National Security Council official Alexander Vindman. -- Billy House
Acting White House Chief of Staff Mick Mulvaney admitted that Trump offered Ukraine a quid pro quo of military aid in exchange for investigating his political opponents. "Get over it," Mulvaney said. Hours later, he denied making such an admission.
Ambassador Gordon Sondland said in a statement to investigators behind closed doors that he disapproved of the White House decision to withhold foreign aid that Congress designated for Ukraine. He also said he was never on board with Rudy Giuliani's plan to dig up dirt on Biden.
House Speaker Nancy Pelosi said she has "no idea" whether the House impeachment inquiry and a Senate trial could be wrapped up by the end of the year. Senate Majority Leader Mitch McConnell has suggested such a schedule to GOP colleagues. "The timeline will depend on the truth," Pelosi told reporters.