Standoff in Sudan Amid Calls for Army Rulers to Cede Power
(Bloomberg) -- Pressure mounted on Sudan's military rulers to cede power as the African Union echoed protesters' calls for a swift handover to a civilian government in the wake of long-time leader Omar al-Bashir's ouster.
Demonstrators kept up their carnival-like sit-in outside army headquarters in Khartoum, the capital, for an 11th day, despite an apparent bid to disperse them. The Sudanese Professionals Association, a driving force behind the four months of protests against al-Bashir, on Monday called for the immediate dissolving of the transitional military council and its replacement by a civilian body with army representatives.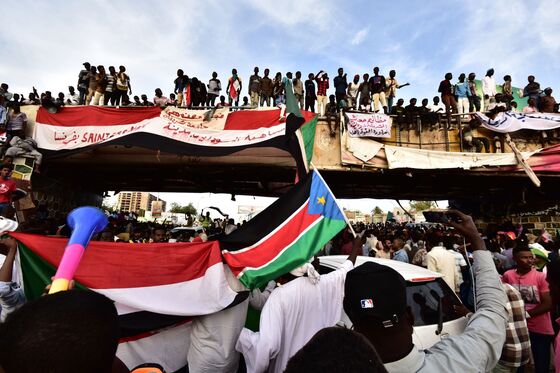 The African Union's Peace and Security Council on Monday said Sudan would face suspension from the bloc's activities if the military council didn't surrender power to a "civilian-led political authority" in 15 days. The transitional military council, which has already changed leaders since taking charge on April 11, has said it may rule for as long as two years.
The ouster of al-Bashir, in power since 1989 and one of Africa's longest-serving rulers, followed protests across the oil-producing nation sparked by soaring living costs in which dozens of people were killed. Activists have vowed to keep demonstrating, saying Sudan's new rulers are mostly stalwarts of al-Bashir's regime and widespread change is needed.
The council on Tuesday appointed a military governor, Murtada Abdullah Warag, for the capital, the latest government posting for an army figure. It also replaced the prosecutor general, Omar Ahmed Mohamed -- a step that protesters had demanded.
The council's deputy head, Mohamed Hamdan, is chief of the Rapid Support Forces, a paramilitary unit accused of rights abuses. He said late Monday that Sudanese fighters would remain in Yemen, where they're part of a Saudi Arabia-led alliance battling Houthi rebels, the state-run SUNA news agency reported.
The protests that began in mid-December were fueled by a series of currency devaluations and fuel and bread shortages. Inflation accelerated to 45.4 percent in March from 44.3 percent in February, the state statistics bureau said Tuesday.
There has been sporadic violence since al-Bashir was ousted. The police said Saturday that at least 16 people have been shot dead by "outlaws" and 20 others injured in the previous two days.
Participants at the Khartoum protest said small groups of unidentified armed men had attacked the site several times, but been repelled.
"The situation is quiet here, we didn't see any attacks since morning," one protester, Hussein Khidir, said by phone. "But we still feel that there are bad things happening under the table to break up this sit-in."