Sri Lanka House Speaker Says Rajapaksa Must Prove Majority
(Bloomberg) -- The speaker in Sri Lanka's parliament said he can't recognize newly-appointed prime minister Mahinda Rajapaksa until he proves a majority in the legislature.
Lawmakers want a vote in parliament on President Maithripala Sirisena's decision to sack Prime Minister Ranil Wickremesinghe and appoint Rajapaksa in his place, Sri Lankan house speaker Karu Jayasuriya said in a statement on Monday. Until that vote takes place, a majority of parliamentarians have said they believe the current situation, in which Rajapaksa is acting as prime minister, is illegal, the speaker said.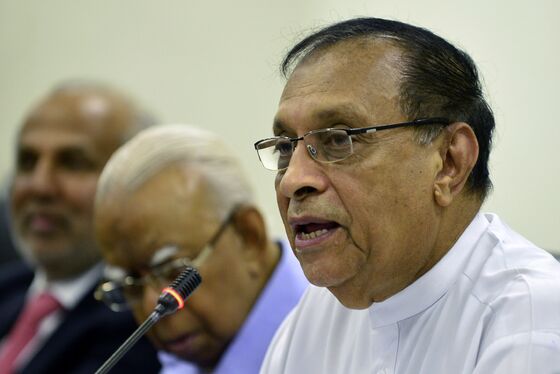 "A majority of members have conveyed that the changes done in parliament are unconstitutional and against traditions," Jayasuriya said. "Therefore I am compelled to accept the status quo prior to the changes until the new group shows the majority."
However a spokesman for the newly appointed cabinet, Mahinda Samarasinghe, rejected Jayasuria's assessment. "It is wrong for the speaker to act in this way," Samarasinghe said at a press conference of Sirisena's Sri Lanka Freedom Party, in Colombo on Monday. "We ask him to abide by the law."
Sirisena's unexpected firing of Wickremesinghe, who served as prime minister in a unity government with Sirisena, has plunged the South Asian island nation into a constitutional crisis. Sirisena suspended parliament the day after his move on Oct. 26, and both Wickremesinghe and Rajapaksa are claiming to be prime minister in a situation that is being closely monitored by foreign governments who worry about democratic backsliding.
The political developments had no negative impact on tourism, new Foreign Minister Sarath Amunugama said at the press conference.
Yet there have been ramifications. The U.S. and Japan are holding back nearly $2 billion in loans and grants from Sri Lanka, according to Ministry of Megapolis and Western Development spokesman Dhanushka Ramanayake. The Japan International Cooperation Agency, which coordinates the government's development assistance, declined to comment.
Meanwhile, Rajapaksa supporters have planned a rally near the nation's parliament on Monday.
The president on Sunday called for parliament to reconvene on Nov. 14 in a notification published in the country's official gazette.