Split State Decisions Reveal Complex 2020 Map for Trump Re-Election Bid
(Bloomberg) -- Iowa elected a Republican governor and yet filled three of its four congressional seats with Democrats. Kansas did the opposite, electing a Democratic governor and Republicans in three of its four House districts.
Those outcomes illustrate just how hard it will be for either party to blaze a path to victory in the 2020 election, when President Donald Trump will be looking for a second term -- and Democrats will be trying to defeat him.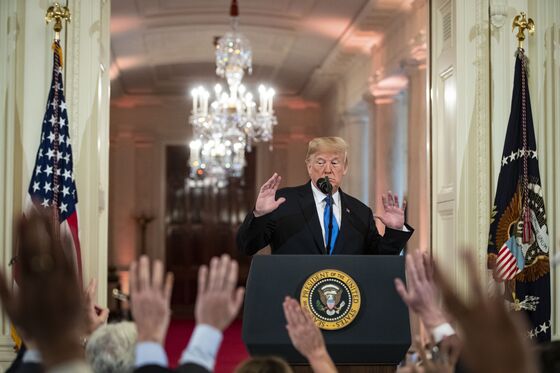 Tuesday's midterm elections, which delivered the House to Democrats, kept the Senate in Republican hands and shuffled the deck of statehouse control, offered clues but little certainty.
On Wednesday, both parties and the president claimed victory, even if it wasn't an easy sale. "Last night the Republican Party defied history to expand our Senate majority while significantly beating expectations in the House," Trump said at a White House news conference.
Representative Nancy Pelosi, who's in line to reclaim the House speaker's post, said at a news conference a short time later that "Americans elected an extraordinary class of dynamic and diverse Democratic candidates" who "reflect their districts and who embody the bountiful diversity of our nation."
Perhaps the best news for Trump was delivered in Florida and Ohio. Candidates he aggressively supported in those two quintessential battlegrounds rich in electoral votes won highly competitive races. The president will need them both for a return ticket to the White House in 2020.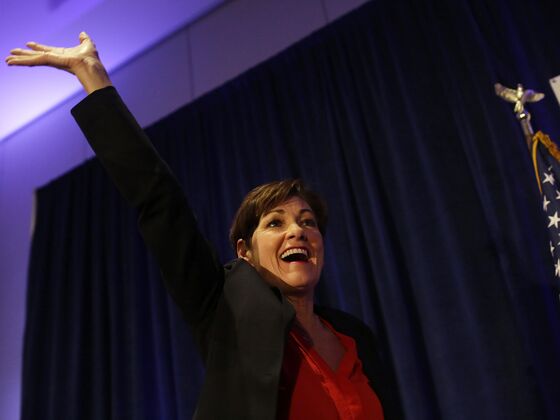 But races that stretched from the Mid-Atlantic to the Middle West presented potential complications for Trump's re-election bid. Democrats won gubernatorial and Senate contests in Pennsylvania, Michigan and Wisconsin over Trump-backed Republicans, an indicator that three states central to his 2016 victory may be drifting away.
"That's going to be tough for him, if this holds up for 2020," said William Frey, a senior demographer at the Brookings Institution in Washington. "I think you could argue that 2016 was an outlier."
Other mixed signals could be found across races for Senate, House and governors. Some Trump devotees won, while others lost. Some centrists were rewarded, others were vanquished. And some states picked both conservatives and liberals.
At the same time, other axioms were confirmed: the nation has become even more polarized since Trump exploded onto the national scene, Republican and Democratic voters have retreated to their corners and that local politics and the quality of candidates still matters.
"Blue and purple areas got bluer, and redder areas got redder," said Democratic Representative Gerry Connolly of Virginia. "In today's world, if you are in the middle of the road, you are road kill."
Democrats dominated in urban districts that are at the heart of their base, while also securing significant victories in suburban areas. That was the map where their wins were most obvious, netting them a gain of at least 27 seats, and the majority in the House.
Republicans showed their greatest strengths in heavily rural states where Trump won in 2016. That was the map they won in a year where Democrats were defending 26 Senate seats, while the GOP was protecting just nine.
After a decade of losing power, Democrats did manage to gain ground in governors races. Heading into Tuesday night, Republicans held 33 governors' offices, Democrats 16 and one, Alaska, was in custody of an independent.
Democrats flipped seven seats, including Wisconsin, Kansas, Michigan, Illinois and Maine and protected all of their incumbents, bringing their number to 23. The race in Georgia was too close to call but leaning toward Republicans, and a Republican was elected in Alaska. That likely leaves the GOP with 27 seats.
The Democratic gains will be critical for the party heading into redistricting following the 2020 Census. Many of the governors elected in 2018 to four year terms will have influence over the congressional maps for the next decade.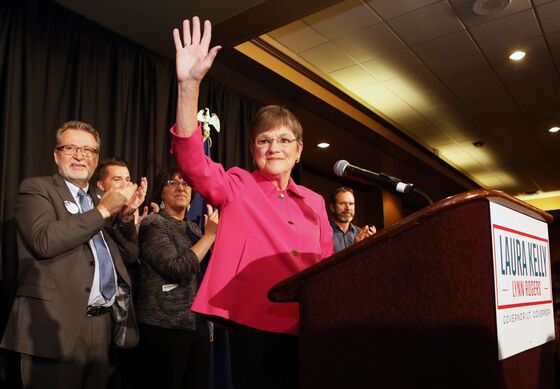 In Kansas, Democrat Laura Kelly defeated Secretary of State Kris Kobach, a Republican who participated in President Trump's disbanded voter fraud panel. Democrat Tony Evers defeated Republican Governor Scott Walker of Wisconsin, a 2016 presidential candidate and a longtime Democratic nemesis.
The defeat of Kobach suggests a return to the state's more moderate, practical politics of the past three decades, said Burdett Loomis, a political science professor at the University of Kansas.
Kobach embraced the tax-cutting fiscal policies of former Republican Governor Sam Brownback, which proved to be very unpopular and led to budget shortfalls and spending cuts on roads, education and other things Kansas voters value, Loomis said.
"It's a return to the way our state politics have been," Loomis said. "We're more tribal to be sure, but I do think there's kind of a Kansas common sense."
But he added that doesn't in any way suggest Kansas could be in play for Democrats in 2020. "This is a Republican state," Loomis said.
Iowa, the state that begins the presidential campaign season with its caucuses, elected Kim Reynolds, a Trump devotee, to her first full term as governor after filling the job following Terry Branstad's appointment by Trump as ambassador to China.
But Iowa also dumped two incumbent House Republicans for two Democrats running against the Trump agenda, while retaining Representative Steve King, a controversial lawmaker who was tossing red-meat rhetoric on immigration to the GOP base long before Trump.
Ohio's election results offered seemingly contradictory results as well. Trump, who won the Buckeye State by more than eight percentage points in 2016, included the state among his final campaign stops before the election so that he could help Republican Mike DeWine keep the governor's office in GOP hands. DeWine defeated Democrat Richard Cordray, the former director of the Consumer Financial Protection Bureau who Trump demonized as a "far-left disciple" of Democratic Massachusetts Senator Elizabeth Warren, a potential 2020 candidate.
Trump also endorsed and campaigned for Republican Representative Jim Renacci to defeat two-term Democratic Senator Sherrod Brown, one of the most liberal members in the chamber. Brown easily won his race, in the same election Ohio voters also elected Republicans to every other statewide executive office.