Spanish Prosecutor Accuses Catalan Separatists of Coup d'Etat
(Bloomberg) -- A Spanish prosecutor accused Catalan separatist leaders of staging a coup d'etat by attempting to split the region from Spain in 2017.
"It was a coup d'etat, which is the substitution of one judicial order for another by illegal means," Javier Zaragoza, a prosecutor at the trial at Spain's Supreme Court of 12 leaders of Catalonia's independence movement that began in February. "That's what the accused intended."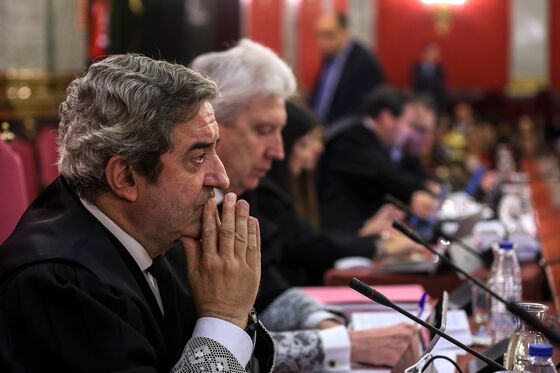 The government has billed the trial as one of the biggest in Spain's democratic history as it probes the events of late 2017 when ex-Catalan President Carles Puigdemont attempted to declare a republic.
While pro-independence Catalans claim Spain has acted to crush a legitimate independence movement, the government says the trial shows the rule of law in action to defend Spain's constitutional order. The prosecution case is that the events of October 2017 amounted to an act of rebellion.
As the trial moves toward its close, the wounds left by the events of 2017 are proving slow to heal. Five of the Catalan leaders on trial, including Oriol Junqueras, the vice-president of the Catalan administration, won seats in the Spanish national parliament in elections held in April.
They have since been suspended from taking part in parliamentary activity. Even so, Spain's Acting Prime Minister Pedro Sanchez may need some help from nationalist parties, including Junqueras's ERC, to help him win parliamentary votes that will help him form a new government.