Spanish Premier Loses Housing Vote as Coalition Ally Defects
(Bloomberg) -- A parliamentary ally of Spanish Prime Minister Pedro Sanchez unexpectedly voted against a government-supported decree on Tuesday, underscoring Madrid's tentative hold on political power ahead of difficult budget negotiations.
Members of anti-establishment party Podemos, which is in a fragile alliance with Sanchez's Socialists, joined other lawmakers in voting against the government's decree on housing, aimed at easing access to rental properties as prices rise in cities such as Madrid and Barcelona.
Podemos lawmakers said they couldn't support the measure because it didn't do enough to cap price increases. Still, Podemos voted in favor of other government decrees on Tuesday and has expressed support for Sanchez's 2019 spending plan, which parliament is expected to begin negotiating in mid-February.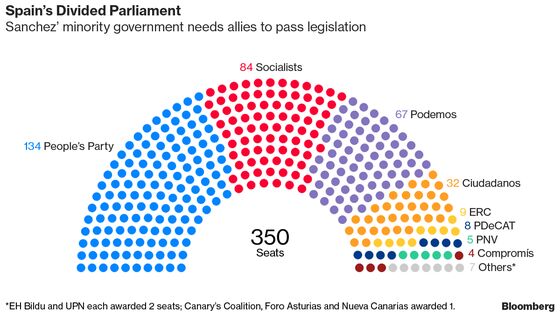 The rejection of the housing decree is also an attempt by Podemos to present itself as supporting measures that are popular among Spanish voters on the left and to regain some voters the party has lost to the Socialists in recent months.