Spanish Deal to Avoid Elections Falters as King Consults Parties
(Bloomberg) -- Spanish Socialists signaled the country may be headed for repeat elections as they downplayed the chances of reaching a deal on forming a government.
Acting Prime Minister Pedro Sanchez doesn't currently have the support he needs to stay on as prime minister, Adriana Lastra, the Socialist spokeswoman in parliament, told reporters Tuesday. Her comments came during a hectic morning as her boss continued final contacts with leaders of the main parties.
"As of now there would be no possible investiture of Pedro Sanchez," Lastra said.
Spanish King Felipe VI is meeting political leaders on Tuesday to judge Sanchez's chances of being able to win enough parliamentary votes to form a new government. If he deems that impossible, new elections will take place Nov. 10 -- the fourth vote in as many years.
Spain has become increasingly hard to govern since the conservative People's Party lost its majority in 2015. With the Catalan drive for independence and the financial crisis helping to splinter the political map, the Socialists emerged as the biggest party but failed to piece together a majority after last April's election.
The king was meeting party leaders on Tuesday amid a late flurry of contacts between Sanchez and opposition parties.
Albert Rivera, the leader of the liberals of Ciudadanos, wrote to Sanchez, demanding a meeting to explore a pact to allow a government to form.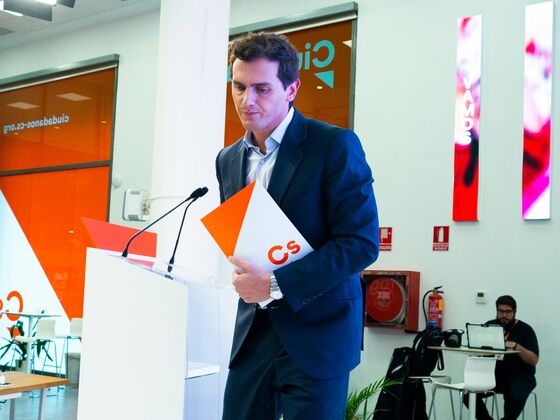 He set conditions, including reversing plans to raise taxes and studying suspending Catalonia's separatist regional government.
The acting prime minister wrote back to Rivera saying he was already honoring the terms set by Ciudadanos and therefore his path to govern should be cleared. In a statement, Ciudadanos called the response a mockery.
Meanwhile, talks between the Socialists and the anti-austerity party Podemos remain blocked with its leader Pablo Iglesias insisting on creating a coalition government as the price for its support. The Socialist leader staunchly opposes having Podemos in his administration.
After his meeting with the king, Iglesias said he was still open to backing Sanchez's bid to govern as long as Podemos joins a government coalition. The Socialists have asked Podemos instead to settle for agreement on common program.
"What we need is a yes from Pablo Iglesias," Lastra told reporters.
In elections held in April, the Socialists emerged as the biggest party with 123 seats in the 350-member chamber but without an overall majority. Securing the support of Ciudadanos, with 57 seats, and the Podemos platform with 42 seats, would help clear Sanchez's path to govern.
King Felipe is scheduled to hold meetings with Rivera at 4:30pm Madrid time and Sanchez at 6pm.
If Sanchez cannot win parliamentary approval for his bid to form a government by Sept. 23, Spain is headed for new elections on Nov. 10.