Spanish Establishment Suffers Another Fracture in Andalusia
(Bloomberg) -- Spain's political establishment suffered another significant crack on Sunday as the far-right group Vox won its first ever representation in a regional election in Andalusia, carving off voters who were targeted by the center-right People's Party.
Vox won 12 seats in the 109-seat regional assembly, a stronghold for Prime Minister Pedro Sanchez's Socialists for the past 36 years. The Socialists' grip on Andalusia was hanging by a thread after slumping to 33 seats from 47 in 2015. The PP dropped to 26 seats from 33 last time around.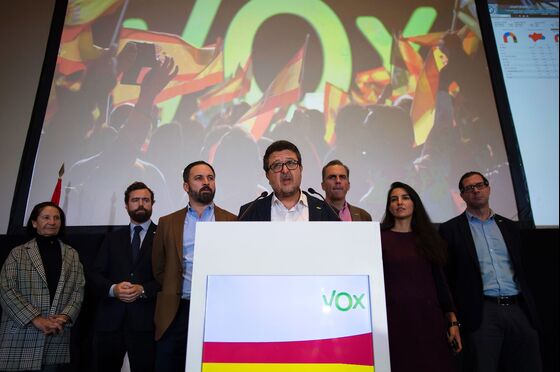 Three years after a watershed election ended the two-party system that has steered Spain since the return to democracy in 1978, the political landscape is getting even more tangled.
One constant in Spanish politics over the four decades since the end of the dictatorship has been the ability of the PP and its predecessors to prevent the emergence of a rival on its right. That run is now over, posing an unprecedented challenge to the party as it looks toward possible national elections in 2019 under an untested leader in 37-year-old Pablo Casado.
Vox policies include calling for the immediate suspension of self-government in Catalonia, closing the Senate, controlling immigration and slashing taxes. Its leaders have met with Donald Trump's former strategist Steve Bannon.
The result in Andalusia won praise from French far-right leader Marine Le Pen, who is looking to form loose alliance for next year's European elections with figures such as Italian Deputy Premier Matteo Salvini and Viktor Orban, the Hungarian prime minister.
"The first impression is the size of the defeat for the Socialists," said Antonio Barroso, a political risk analyst at advisory firm Teneo Intelligence. "Even so, it may provide them with a rallying cry and I am sure they will try to use that."
But if the Andalusian vote dealt a blow to the Socialists, it also presents a challenge for the PP, even if ironically the result may hand them the keys to power in the region, said Barroso. "It's a very bad result for the PP in terms of numbers," he said. "A new challenger for their votes is emerging."
Sanchez has conceded he may be forced to call snap elections next year if he can't corral the votes he needs to pass his budget for 2019. After winning a no-confidence vote to oust the PP from office in June, Sanchez still needs to seal voting pacts with regional nationalist parties in Catalonia and the Basque country to get his spending plan passed.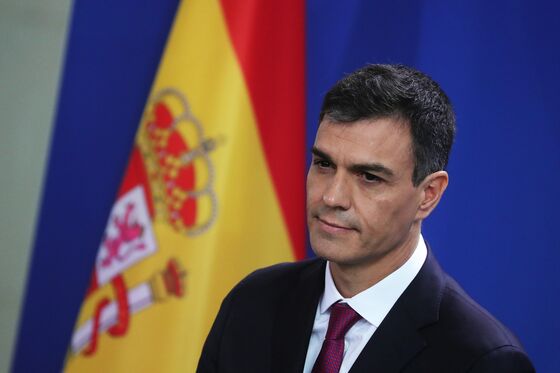 Sunday's result suggests he may go into that election as the first Socialist candidate in a generation not to control Andalusia. Vox, the PP and Ciudadanos won an absolute majority of 59 deputies between them, though the politics of actually sealing a pact to take control of the region remain treacherous.
"We are going to throw the Socialists out of the government of Andalusia," Albert Rivera, the leader of Ciudadanos, said.
At national level, the result in Andalusia may help persuade Sanchez to try to hold off calling elections, Jose Luis Rodriguez Zapatero, a former Socialist prime minister, said. "The normal thing is try to work with the perspective of having the maximum time possible," Zapatero said in an interview with broadcaster Antena 3.
Even so, the setback in Andalusia still may not change Sanchez's thinking about when to call elections at national level because his inability to pass legislation remains a problem that will continue to sap his authority, said Barroso.
"Sanchez is caught between a rock and a hard place," he said.
Socialists won 33 seats with 28 percent of votes, from 47 seats in 2015
PP won 26 seats with 20.8 percent of votes, down from 33
Ciudadanos had 21 seats with 18.2 percent of votes, up from nine
The Podemos platform had 17 seats with 16.2 percent of votes, compared with 20 in 2015, when it ran as two separate parties
Vox had 12 seat with 10.9 percent of votes