Spanish Election Throws Rock Through Britain's Brexit Window
Spanish Prime Minister Pedro Sanchez has called a snap election which will be in full swing just as Britain's tortured retreat from the European Union reaches its tense climax.
For the U.K.'s Theresa May, there's a real risk that Spain's rival parties will seek to use Brexit as a political weapon -- focusing their fire on the tiny rocky outcrop of Gibraltar.
Sanchez himself forced May to give ground in a diplomatic tussle over the contested territory last November, threatening to veto the Brexit deal. To placate him, Britain was forced to write a letter conceding that Gibraltar won't necessarily be covered by a future U.K.-EU trade deal.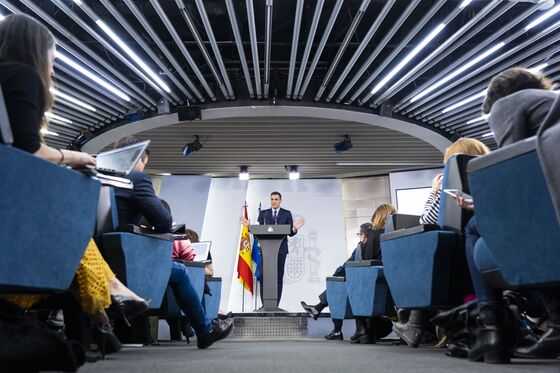 The Spanish leader claimed victory, declaring Britain will be forced to open talks on joint sovereignty over the British Overseas Territory, a long-held goal in Spain.
The history matters because May still needs Spanish support. As time runs out, she's trying to reopen Brexit negotiations to get a better deal on the Irish border backstop. New talks would give Spain -- and others -- a chance to make their own demands in return.
Many officials in May's team also believe she'll need to ask the EU to extend the deadline beyond Britain's scheduled exit date of March 29. To do that, May will need support from every one of the EU's 27 other member countries, including Spain.