Spanish Premier Dares Opposition to Vote Down Spending Increase
(Bloomberg) -- Spain's Socialist government stuck to its pledge to loosen deficit targets for next year, challenging the opposition People's Party to wield its Senate veto against plans to help voters weary of years of austerity.
The administration will target a budgetary shortfall in 2019 of 1.8 percent of GDP, compared with 1.3 percent reported to the European Commission by the former PP government, Economy Minister Nadia Calvino said at a press conference in Madrid. It also trimmed its forecast for growth next year to 2.3 percent from 2.4 percent.
The administration projected that at least 10 million Spaniards would benefit from the increase in pensions and other benefit spending while the structural adjustment would mean Spain complied with EU rules.
"We are convinced that this plan is in line with what is required," Calvino, a senior official at the Commission until June, said. "This is the right plan for Spain. It will allow us to continue growing and embark on an adjustment that will be much more sustainable over time."
Nevertheless, the plan will test the authority of a five-month old government that has barely a quarter of the seats in Spain's parliament. With the PP vowing to block a higher deficit, Prime Minister Pedro Sanchez risks a legislative logjam and potentially early elections.
"It's hard to see how any party that's truly interested in improving people's lives would reject this plan," Budget Minister Maria Jesus Montero said.
Spain has until midnight Monday to deliver its budget draft to the authorities in Brussels. Under European fiscal rules, no country should have a deficit larger than 3 percent or debt above 60 percent of output, and governments are required to set annual targets to show they're moving in the right direction.
Sanchez cut a deal on his budget plan with anti-austerity party Podemos last week. The pact includes a boost to the minimum wage, a tax increase for higher earners and a 0.2 percent charge on the purchase of shares in Spanish companies.
"This budget plan from Pedro Sanchez and Podemos is laying the groundwork to dismantle the effort Spaniards made in recent years to leave behind the crisis the Socialists created with Zapatero," PP Secretary General Teodoro Garcia said at a separate press conference.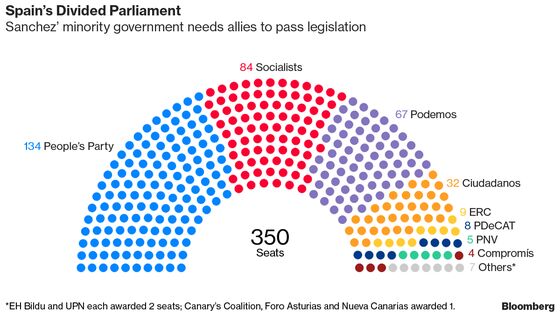 Sanchez still needs support from nationalist politicians in Catalonia and the Basque Country to add to the 67 seats from Podemos and get the budget passed. It would also have to get through a Senate controlled by the PP.
If it fails to get the plan approved, Sanchez may have to revert to more stringent fiscal targets laid out by the PP before it was ousted in a no-confidence vote in May. That would leave the government scrambling for more tax revenue to soften the fiscal adjustment required to meet stricter targets. Montero said there is no plan to roll over the PP spending program.
"We will defend this budget plan with determination, conviction and passion," Education Minister Isabel Celaa, who is also the government's chief spokeswoman, said.