Spain's Sanchez Is on Track to Govern as Decisive Vote Looms
(Bloomberg) -- Spain's Acting Prime Minister Pedro Sanchez failed to win enough support in a first parliamentary vote on Sunday, part of a process that should still allow him to form a government with help from Catalan separatists in 48 hours.
Sanchez, 47, needs to win the endorsement of the 350-seat chamber in a process that will drag out through Tuesday. Sanchez won the backing of 166 deputies to 165 votes against, with 18 abstentions.
While he didn't have the numbers to ensure the required parliamentary majority on Sunday, he's on track to win Tuesday's decisive vote when he only has to have a simple majority of votes cast. That should be possible after he struck a deal for 13 deputies from the pro-independence Esquerra Republicana de Catalunya to abstain.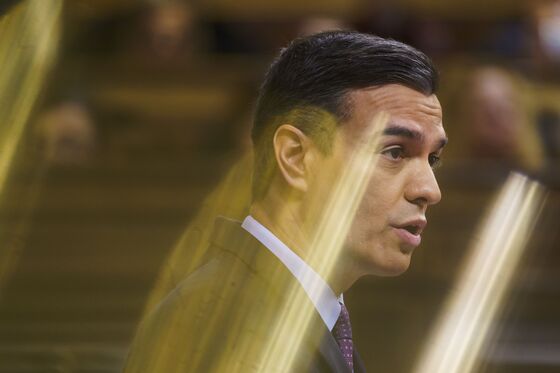 On Saturday, in the first day of the debate on his bid to stay on as premier, Sanchez appealed to deputies to seize the chance to end a political stalemate that began when he sparked the first of two inconclusive elections in April. With parliament still split among five major parties and a medley of regional groups after a second vote in November, Sanchez sealed a coalition agreement with the anti-austerity group Podemos and coaxed Esquerra to help him turn the political math in his favor.
"This progressive coalition is without any doubt the best antidote to this coalition of the apocalypse," Sanchez said on Sunday, referring to his right-wing opponents. "I ask for the majority support of this chamber so that at last Spain can have a government."
Sanchez says he's trying to change the course of Spanish politics that has struggled since 2017 to deal with the aftermath of a failed bid by Catalan separatist parties, including Esquerra, to declare independence. In his speech on Saturday, he stressed the need to acknowledge the frustrations of those in favor of and against secession for the region. "We need to start again," he said.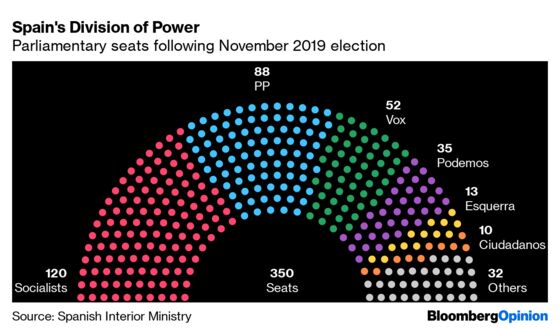 While the numbers appear to work for Sanchez, they still look tight. On Saturday, Ana Oramas, a deputy for the regional Coalicion Canaria group, broke party ranks to say she would vote against him instead of abstaining. Based on Sunday's result, Sanchez will win on Tuesday by a margin of one or two votes.
Some details of Sanchez's potential new government have started to emerge. Podemos will have five members of Sanchez's cabinet including its leader Pablo Iglesias, who will have a deputy prime minister role and Alberto Garzon, the leader of the United Left group, who will become minister for consumption, El Pais newspaper reported, citing people close to the talks with the Socialists.
Sanchez came under heavy criticism on Saturday from opposition parties including the conservative People's Party and the far-right force Vox who accuse him of betraying the Spanish constitution by doing a deal with the separatists. Santiago Abascal, Vox's leader, accused him of committing "Christmas treason" with his pact with Esquerra.
The backdrop to the voting process underway in parliament is the fracturing of Spanish politics that began in 2015 when the former PP Premier Mariano Rajoy lost his majority. The aftermath of Spain's financial crisis of decade ago and the divisions caused by the Catalan secession campaign have helped cause the splintering of the political scene.