Madrid Voters Hand Sweeping Win to Sanchez's Biggest Critic
(Bloomberg) -- Isabel Diaz Ayuso, Madrid's combative conservative leader, won a second term as regional president, cementing her position as Prime Minister Pedro Sanchez's most powerful critic.
Ayuso's People's Party claimed 65 seats in Tuesday's vote, more than doubling its representation in the regional assembly, with Sanchez's Socialists getting 24 and falling to third place in number of votes behind a rival left-wing group. Ciudadanos, Ayuso's center-right rival and former coalition partner, was wiped out.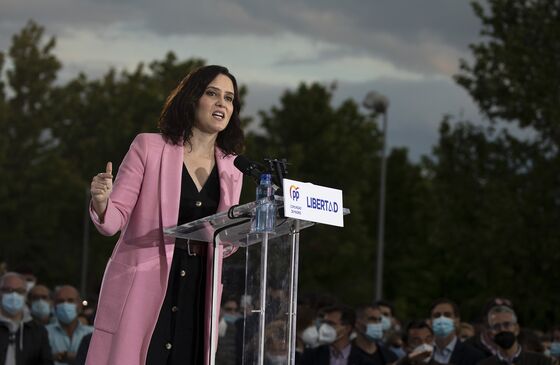 Since being plucked from relative obscurity to run Spain's most important region, Ayuso has won popularity with her unapologetically hardline rhetoric, by consistently attacking Sanchez and by challenging the European consensus on restrictions to movement and economic activity during the pandemic.
"Freedom has won in Madrid, once again," Ayuso said, speaking from a balcony at her party's headquarters to scores of supporters. "A new chapter starts today in the history of Spain."
Amid the resurgence in Spanish nationalism that followed Catalonia's failed bid for independence, Ayuso has captured the imagination of one half of a divided society as a counterpoint to Sanchez. Where the prime minister has earned brickbats from many conservatives for his willingness to cut deals with Catalan separatists, Ayuso has taken a big step toward reuniting the fragmented right-wing vote.
Ciudadanos has split the conservative electorate since its emergence as a political force in 2015 and its elimination from the regional assembly could signal a broader shift that would make the PP a more serious threat to Sanchez at a national level. The party's main competitor for conservative votes is now the far-right group Vox, which added one seat in Madrid to claim 13.
"Polls have granted Ayuso a great result and, what's more, a great responsibility," Sanchez tweeted. "Congratulations."
Vox's leader, Santiago Abascal, also welcomed Ayuso's "great" result while celebrating what he defined as a big defeat for Sanchez. Ayuso is just short of an outright majority so will need some form of support from Vox to govern.
Among opposition parties, the Socialists lost 13 of their 37 seats to finish with the same number as Mas Madrid while the far-left group Unidas Podemos is set for 10, three more than in 2019. The Socialists recorded their worst ever result in regional elections in Madrid.
Podemos's founder, Pablo Iglesias, had stepped down as deputy prime minister in Sanchez's coalition to head the party's campaign in Madrid and he announced his withdrawal from politics following the result.
Iglesias said he has become a scapegoat and that his presence no longer helps his party. He had already handed over the relationship between Podemos and the Socialists in the central government's coaltion party to Yolanda Diaz, the labor minister, and reaffirmed that he sees her leading the party.
The verdict from voters in the capital will also bolster Ayuso within her own party, where other regional leaders have at times been uneasy about her brash positions and her flirtation with Vox.
While Ayuso has eclipsed the PP's national leader, Pablo Casado, it's still difficult to see her replacing him at the head of the party so that she can take on Sanchez directly. The fiery rhetoric that plays well in the capital goes down badly in other parts of the country, especially in Catalonia.
One of her predecessors as Madrid president, Esperanza Aguirre, tried and failed to make the jump to PP leader more than a decade ago. The PP has governed Madrid since 1995.
As Spain was battered by the coronavirus, Ayuso and Sanchez clashed over how best to tackle the infections. The prime minister was pushing for firmer restrictions on activity whereas Ayuso, taking advantage of Spain's devolved structure, insisted on keeping hospitality and shops open, despite the capital suffering the worst death toll of any city in Europe. Voters repaid her commitment to keeping the economy afloat.