Spanish Elections Loom Close After Parliament Rejects Budget
(Bloomberg) -- Spain's parliament blocked the ruling Socialist party's 2019 budget, significantly increasing the chances that Prime Minister Pedro Sanchez will call an early general election.
The 473 billion-euro ($535 billion) spending plan was rejected after the government failed to secure backing from the Catalan independence parties it had previously relied on for support.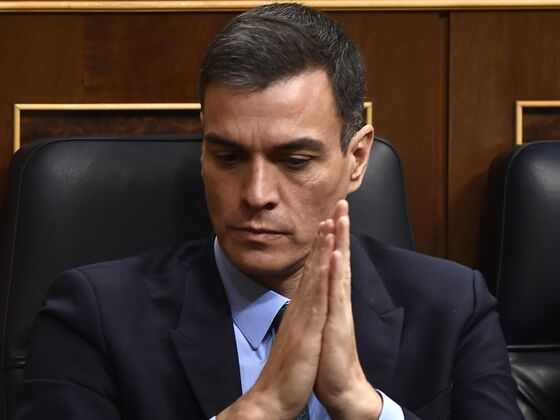 Sanchez's effort to get the budget approved was doomed to failure. Talks with the Catalan parties broke down last week ahead of the trial of 12 pro-independence leaders accused of crimes linked to a 2017 attempt to force a secession. The lawmakers from Catalonia were reluctant to support the minority government in the middle of a trial that independence advocates have labeled as political persecution.
Sanchez left parliament immediately after the vote to return to his office where he was due to continue his working day. Pablo Casado, the leader of the opposition People's Party, told reporters there was now no excuse for Sanchez to delay an election. Spain's government bonds underperformed their euro-area peers.
With control of less than a quarter of Congress, Sanchez may have little option but to call an election before the end of his term. Sanchez will make a decision on Friday after a Cabinet meeting, a government spokesman said.
Spain has been ruled by weak governments since 2015, when former Prime Minister Mariano Rajoy lost the parliamentary majority that brought him into office. And while he temporarily reclaimed power, he was toppled last year by Sanchez with the help of Catalan separatists. But with only 84 lawmakers in the 350-strong parliament, the Socialist has been unable to craft the alliances he needs to pass key legislation such as the budget.
If Sanchez's government falls, it could usher in a new right-of-center alliance that includes Vox, an anti-migration movement that scored an unexpectedly strong showing in regional elections in Andalusia in December. That would fit a paradigm playing out across the European Union that has seen populist and Euroskeptic parties win power or disrupt legislative work.
The shift comes ahead of European Parliament elections in May, which is shaping up to be a referendum on the EU itself. Nationalist or populist parties are already in charge of the governments in Italy, Poland, the Czech Republic, Hungary and Greece, with right-wing groups gaining in prominence in Germany, Sweden, Latvia as well as Spain.
The outcome of the vote shows "one more time how difficult is for Sanchez to gather a majority," Antonio Barroso, an analyst at Teneo Intelligence in London, said by phone. "Staying in power until 2020 will be very difficult, as political pressure would mount."
Sanchez's Socialist allies prefer April 28 as the potential date for a general election, El Mundo reported on Wednesday, citing people in the party it didn't identify.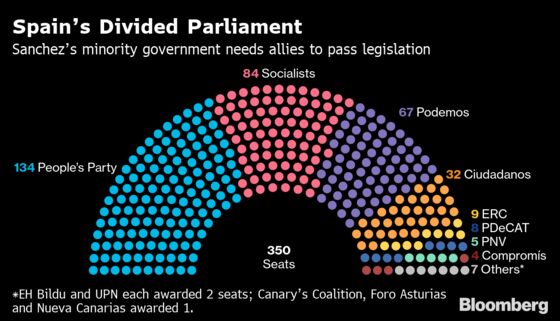 The Socialists are in a technical tie with the conservative People's Party, according to a poll by Celeste-Tel published Wednesday in El Diario.es. Sanchez's party has 23.7 percent support, while the PP has 23.1 percent, the telephone poll of 1,110 people showed.