Spain's Rajoy Vows to See Out His Term as Rivals Plot His Ouster
(Bloomberg) -- Spanish Prime Minister Mariano Rajoy said he aims to see out the rest of his four-year term after the opposition called a vote of no-confidence in his scandal-plagued administration.
"As far as it's in my power, it is evident that I want the legislature to last four years," Rajoy said Friday at a televised press conference in Madrid. "That is good. It gives certainty, it gives security, it allows you to govern with a degree of calmness."
The Socialists, the biggest opposition group, called a vote to oust Rajoy's minority administration after the National Court convicted former officials from the governing party of running a multi million-euro racket on his watch. The anti-establishment group Podemos backed the motion, while Ciudadanos said the prime minister's position has become "unsustainable" and demanded a snap election.
Under Spanish law, deputies can't simply vote to oust the government and hold elections. Rather, they need to agree on who the next leader should be, making it harder to get rid of an unpopular leader.
Ciudadanos, a centrist party that holds the balance of power in the Spanish Parliament, said it's also ready to back a no-confidence vote against Rajoy if he refuses to call a vote -- but not the one put forward by the Socialists.
"It's time for a democratic solution, to give the Spanish a voice and call elections," Ciudadanos General Secretary Jose Manuel Villegas said in a televised statement. "If Mr. Rajoy refuses to call elections and digs in and remains in his usual paralysis, we would be willing to promote and back a no-confidence motion."
Spain's Rajoy is Target of No-Confidence Vote: What Comes Next?
Villegas said Ciudadanos wouldn't support the Socialist motion but might propose an alternative that was more explicitly designed to trigger an election.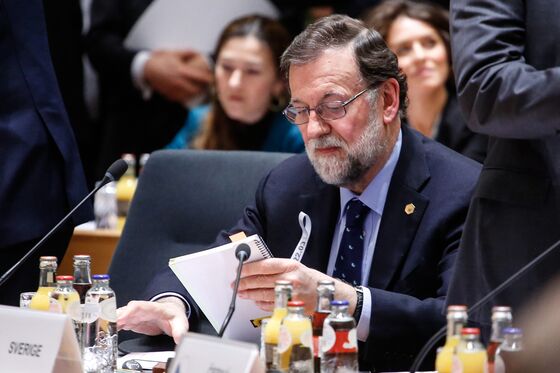 The spread between Spain's 10-year yields and German bunds jumped by 15 basis points to 107 basis points, the widest since January. The benchmark stock index, the Ibex, erased gains of 0.6 percent to trade 1.9 percent lower at 2:39 p.m. in Madrid.
While the anti-Rajoy majority has still to fully come together, Sanchez on Friday said his goal is also to take the country to a vote, eventually.
"It will be a government with a clear road map -- first to recover the political and institutional normality our country needs and secondly to regenerate its democratic life, thirdly to get a social agenda going," said Sanchez. "And lastly to call elections."
"This motion probably won't be successful but it could create the conditions for a fresh election after the summer," said Pablo Simon, a political science professor at Carlos III University in Madrid. "Ciudadanos would gain most, but the Socialists and Podemos hardly can stand against it."
Ciudadanos has been the key support of Rajoy's minority government since an inconclusive election in 2016 left the parliament split between four main groups. The liberals of Ciudadanos, the smallest of four groups, helped Rajoy take office with a confidence vote and this week allowed him to finally pass a budget for 2018.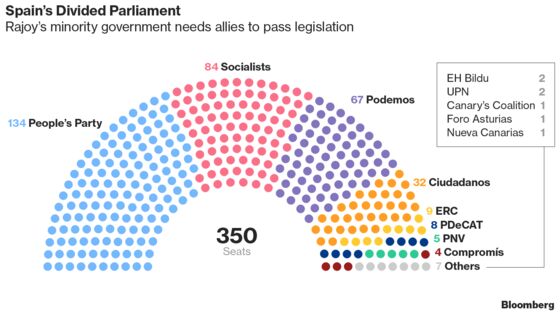 Ciudadanos has been leading in most opinion polls in recent months after drawing voters from both Rajoy's People's Party and the Socialists with its trenchant opposition to Catalan separatism. With separatist groups signaling they are ready to support Sanchez's motion, Ciudadanos leader Albert Rivera would risk turning away conservative supporters if his party lined up with the Socialists and the anti-establishment group Podemos to topple the prime minister.
"If Mr. Sanchez wants to be prime minister then he should win an election," PP lawmaker Alicia Sanchez-Camacho said in an interview with the state television broadcaster TVE. "I hope Ciudadanos doesn't support a censure motion that is backed by the anti-system group Podemos and the Catalan separatists."