Spain's Ciudadanos Sees Role as Opponent of Sanchez Government
(Bloomberg) -- Ciudadanos's role is to help lead the opposition to Spain's acting Prime Minister Pedro Sanchez, party leader Albert Rivera said, throwing cold water on speculation the two will ally to form a stable government.
"I commit to being in opposition but thinking of Spain," Rivera told broadcaster Telecinco in an interview Tuesday. "If we can't govern, we will be in opposition that safeguards the constitution, makes sure they don't destroy the economy."
Sanchez's Socialists won the most seats in Spanish elections on Sunday but not enough to govern without reaching out to other parties for their support. The only potential combination that would yield a clear majority would be the Socialists and Ciudadanos.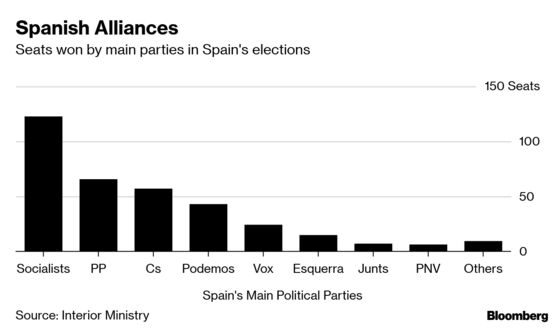 While such a centrist alliance would please investors, Rivera has consistently ruled that out because of his contempt for Sanchez's policy of dialogue with Catalan separatists. The likely option for Sanchez is to craft a pact with the anti-establishment platform Podemos and also seek support from nationalist groups including pro-independence parties in Catalonia.
The preferred option for the Spanish business lobby CEOE would be for both Ciudadanos and the conservative People's Party to abstain in a parliamentary vote so that Sanchez can take office without having to make commitments to Podemos, El Mundo reported.
Rivera said Ciudadanos would support a Sanchez-led government on issues of state such as defense and the fight against terrorism.