Spain's Algerian Gas Imports Via Morocco Stop as Deal Ends
(Bloomberg) -- Spain's natural gas imports via a key pipeline from Algeria stopped after a 25-year transit deal expired without renewal. 
Algerian President Abdelmadjid Tebboune ordered a halt to gas flowing to Spain via Morocco amid a diplomatic spat between the two North African nations. He also told state-run energy company Sonatrach to stop doing business with Morocco and to not renew its transit accord with the neighboring country.
No gas is currently flowing via the Maghreb-Europe link connecting Algeria and Spain via Morocco, according to data from Spanish network operator Enagas SA. Algeria accounts for about half of Spain's total gas supplies.
Spain is still getting Algerian gas via the direct Medgaz pipeline across the Mediterranean Sea, although overall flows from Algeria are set to fall this month. That leaves Spain highly dependent on imports of additional liquefied natural gas, where it may have to compete with higher-priced bidders in Asia.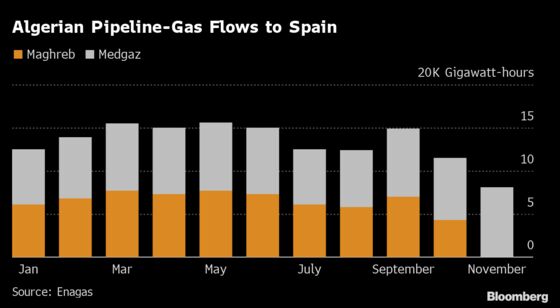 Still, Spain is taking measures to bolster gas supplies for the heating season, including opening more delivery slots at its LNG terminals than it used last winter.
By the start of November, there is 65% more LNG at Spain's import terminals than a year earlier. Underground storage facilities are about 82% full, higher than in other European nations, Enagas said in a statement on Sunday. All the LNG capacity offered at receiving terminals has been contracted for this month. 
"With this situation today and with reservations of slots and capacity already made by traders, there are no objective indications of a situation where there is a lack of gas supplies in the coming months," Enagas said. 
Morocco, which has two power stations fed by the pipeline, shrugged off the impact of the idling, describing it as "insignificant" to the performance of the kingdom's power grid. The country made arrangements to shield its electricity system before Algeria's anticipated move, its state electricity and petroleum agencies said in a joint statement.
Taken together, Morocco's Tahaddart and Beni Mathar plants account for around 9% of national demand, according to official data.