Spain on Brink of Elections With Announcement Expected Friday
(Bloomberg) -- Spain is hurtling toward its third election in less than four years, with embattled Prime Minister Pedro Sanchez making an announcement Friday morning.
He's summoned his Cabinet at 9 a.m. in Madrid and will give a statement at 10 a.m., according to a text message sent by his office. Speculation is rife about elections dates, ranging from mid-April to end of May.
Sanchez is running out of options to stay in power after his budget was blocked by Parliament. Talks with Catalan independence parties broke down last week, leaving him short of the support he needed to pass his spending plan for 2019.
Spaniards are growing accustomed to hung parliaments and weak governments, with another vote unlikely to break the gridlock. Politics is becoming even more fragmented as the fury at Catalan independence campaign helped spur support for Vox, an emerging party that's fast attracting conservative voters.
The regional conflict continues to influence the national political scene in ways Sanchez -- and whoever comes after him -- may find hard to predict.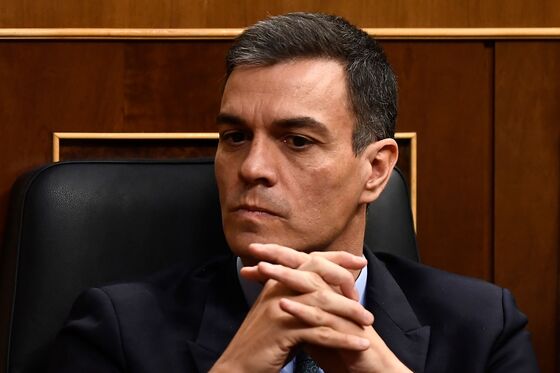 Since taking office last June, Sanchez has made making peace with Catalan nationalists a cornerstone of his domestic policy, claiming Spain will emerge stronger from efforts to rebuild relations with the region following the conflicts of 2017.
Even so, the tactic has always been tinged with pragmatism: with just 84 deputies in the 350-seat chamber, his Socialist government was always going to need the votes of Catalan separatist parties to pass key legislation.
Sanchez had snatched power last year by persuading a loose coalition that included the separatists to oust his predecessor Mariano Rajoy in a no-confidence vote following a string of graft revelations.
Still, the secession issue reared its head again this week as a trial of Catalan politicians accused of rebellion against Spain during 2017's bid for independence got underway in Madrid.
Sanchez's overtures to Catalonia have enraged many Spaniards who believe the Catalans should be punished, not wooed.
Government officials said they were putting talks with Catalan leaders on hold but opposition leaders sought to harness the anger of conservative Spain by holding a rally in Madrid on Sunday in favor of national unity.
A widely-circulated photo from the event showed the leaders of the People's Party, Ciudadanos and Vox standing together, in what could have been a dress rehearsal for Spain's next government.
Without a budget, the government can only continue to operate for a short time.