Spain to Rein in Housing Costs Surge With Rent Controls 
(Bloomberg) -- Spain approved a plan to introduce rent controls and increase taxes on some vacant homes in a bid to make housing more affordable after a surge in costs threatened to price those on lower incomes out of the market.
The housing bill will set limits on how much landlords with multiple residential properties can increase rentals, Spain's Minister of Transport, Mobility and Urban Issues Raquel Sanchez said. It increases taxes for owners who leave multiple homes empty and may require some new real estate developments to set aside some properties for social housing. 
"It was urgent to combat the abusive rise in prices, to fight the growing inequality and degradation that was taking place," Sanchez told reporters after a Spanish cabinet meeting Tuesday. "It's a way out of the labyrinth where many people find themselves because they can't pay for the house they want to buy or find a home to rent at reasonable prices."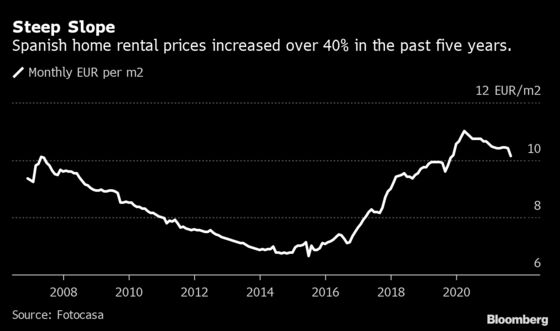 The legislation, drawn up by the ruling Socialist party and its far-left coalition partner Unidas Podemos, is the government's response to a surge in rental prices that has made it harder for Spaniards on lower incomes to afford a home. Rental prices increased more than 40% over the past 5 years in Spain, according to property website Fotocasa.
The bill could affect big institutional investors. Blackstone Group Inc., for example, has spent billions acquiring property in Spain in the wake of the country's 2012 financial crisis and related housing crash.
Landlords with 10 or more properties, for example, will have to limit the price of a new rental contract in areas where rents have been rising fastest. 
The government will use a reference price index to rein in rent increases in these so-called "areas of tension," Sanchez said. The law is set to take effect in the second half of 2022 after getting parliamentary approval.
While the goal is to provide affordable housing, the new rules may prove tough to implement, as it'll be up to regional governments to apply much of the legislation. The main opposition Popular Party, which controls Madrid and other regions such as Castilla y Leon and Murcia, has said it won't apply the law.