Spahn Promises 'New Start' in Bid to Lead Merkel's CDU Party
(Bloomberg) -- Jens Spahn promised to be tough on security and support families as the youthful German health minister stepped up his campaign to succeed Angela Merkel as leader of the Christian Democratic Union.
Spahn, a Merkel critic from the CDU's conservative wing, published a short video clip on Thursday in which he characterized the party as the "heart" of Germany's democracy. He's seen as having only an outside chance of securing the chairmanship at a party convention in Hamburg next month.
"We have allowed that heart to lose strength," Spahn, 38, said in the video, which included pledges to "reduce the burden on families" and "manage globalization with a strong Europe."
The withdrawal of 64-year-old Merkel from the party she's led since the turn of the century has set off a contest to determine whether the CDU sticks to her centrist path or veers to the right. In the past, Spahn has chafed at Merkel's moderate approach with barbs against burqas, the chancellor's migration policies and the use of English in Germany that have earned him a following on the right of the party.
"I want a new start for the CDU and Germany," he said. "I am certain that together we can be strong again."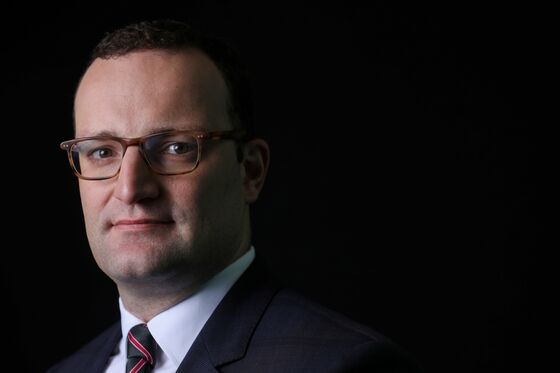 Spahn is competing with party general secretary Annegret Kramp-Karrenbauer, a Merkel protegee, and Friedrich Merz, a one-time antagonist who will challenge Spahn for conservative support.
"I hold Mr. Merz in very high esteem," Spahn said at an event in Dusseldorf Wednesday. He backed Merkel's plan to stay on as chancellor and said he's looking forward to the debate with his rivals.
"Mrs Merkel won't be disappearing any time soon," Spahn said in a brief interview on the sidelines of the event. "I'm looking forward to robust and fair contest with the other candidates."
Merkel tapped Spahn for her fourth-term cabinet in March, seeking both to promote a new generation of party leaders and to blunt his criticism by tying him in to the government. Spahn has blamed Merkel's refusal to shut Germany's borders to refugees in 2015 as the main reason her bloc lost votes in state elections in Bavaria and Hesse.
"The images from that time and the impression that the state and politics lost a degree of control don't easily disappear from the memories of the people," he wrote Wednesday in Frankfurter Allgemeine Zeitung. He said the CDU needs to settle this debate before it can move forward.
Born and raised near Germany's border with the Netherlands, Spahn joined the CDU's youth organization when he was 15 and trained as a bank clerk before becoming a member of the lower house of parliament when he was 22. In 2015, he became a state secretary in the German finance ministry.