South Korea Confirms 48 More Virus Cases, Total Rises to 204
(Bloomberg) -- Confirmed coronavirus infections in South Korea nearly doubled in 24 hours with health officials adding another 100 cases, the bulk of them stemming from a religious sect in Daegu.
The country's Centers for Disease Control and Prevention said Friday that the total number of coronavirus infections rose to 204, with the city of Daegu accounting for most of the new cases. The city of about 2.5 million people has become a something of a ghost town with numerous public facilities closed and many residents staying indoors.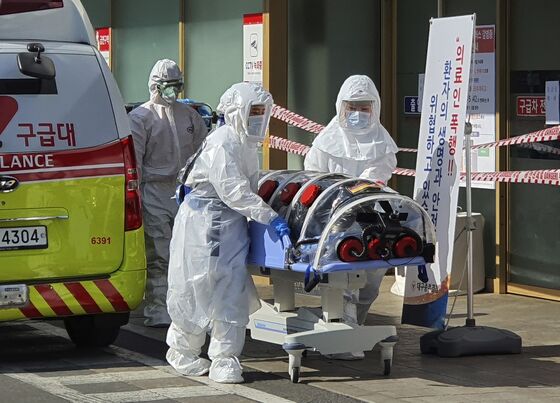 Of the new infections reported Friday, 85 were tied to the Temple of the Tabernacle of the Testimony, formerly known as Shincheonji Church of Jesus based in Daegu, CDC said. In all, 122 cases involve those who may have attended church services with a person who was confirmed with the virus earlier this week. A pastor told JoongAng Ilbo newspaper in an interview that some 1,000 people attended services in which the 61-year-old coronavirus patient was also in attendance.
The number of coronavirus cases in China, the epicenter of the outbreak, topped 75,000, while concerns grew over the pace of infections in other Asian countries. The number of infections in Japan has more than doubled in the past week while Singapore has more than 85 cases.
The outbreak in Daegu, about 235 kilometers (150 miles) south of Seoul, has renewed concerns about the virus after a lull in reported cases last week. Earlier this week, there were 31 confirmed cases in South Korea.
President Moon Jae-in, who held a round table discussion with small businesses Friday, called the spread of the virus "very grave" and said South Korea would "fully mobilize" financial and budgetary measures to help the economy weather the impact of the outbreak. Moon, earlier this week, warned that the effects from the virus on the economy could be bigger and longer-lasting than the 2015 MERS epidemic that killed 38 people in South Korea.
Health officials, meanwhile, did not raise the alert level, saying that the current status of the outbreak was "manageable."
In Seoul, the city's mayor said he would close all of the church's facilities located in the capital, Yonhap News reported.
Also on Friday, the country's defense ministry limited military personnel from taking vacations and outside trips as well as banning visitors to military facilities after a Navy sailor visiting Jeju Island contracted the coronavirus, Chosun Ilbo newspaper reported, citing ministry officials.