South Korea Presidential Hopeful Prods Biden Over North Korea
(Bloomberg) -- A top contender to succeed South Korean President Moon Jae-in called income inequality the key issue in next year's election and urged U.S. President Joe Biden to give Seoul a bigger role in pushing Kim Jong Un to give up his nuclear weapons.
Ruling Democratic Party leader Lee Nak-yon said in an interview from parliament Thursday he wants to see a plan that encourages voluntary financial contributions from corporations, in return for government incentives like tax cuts, to narrow income gaps and help those whose lives have been upended by the Covid-19 pandemic.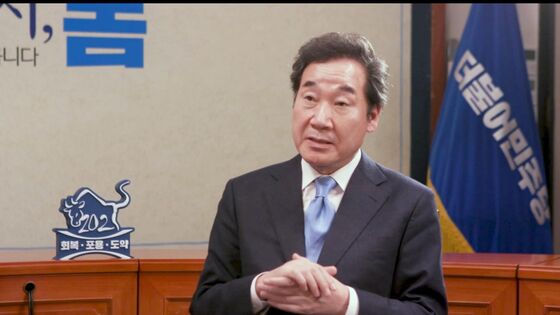 "If the coronavirus situation doesn't easily stabilize and people's difficulties continue to worsen, we cannot look away," Lee told Bloomberg News.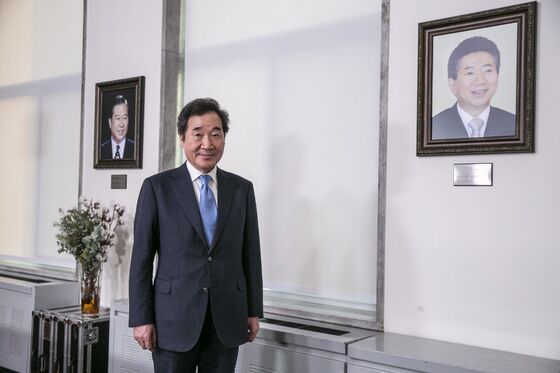 He is considering as much as 20%, or even more, in tax credit to corporations that take part. "I'd like to stress it's not a mandatory program. It's about giving incentives to those corporations who take responsibilities to tackle social problems."
Lee, who served as Moon's first prime minister until Jan. 2020, has emerged in opinion polls as a top contender to represent Moon's progressive bloc in elections next year when the president's single, five-year term ends.
Party leader Lee has been considered a moderate within the progressive camp and recently played a prominent role in putting together Covid-19 relief packages. He's also been a backer of reform of the country's sprawling conglomerates known as "chaebol."
The former premier is due to resign from his post as party leader next week to campaign for the presidency, local media reports said. When asked about a possible run, Lee said: "I will not avoid responsibility," adding there would be "appropriate time" for an official announcement.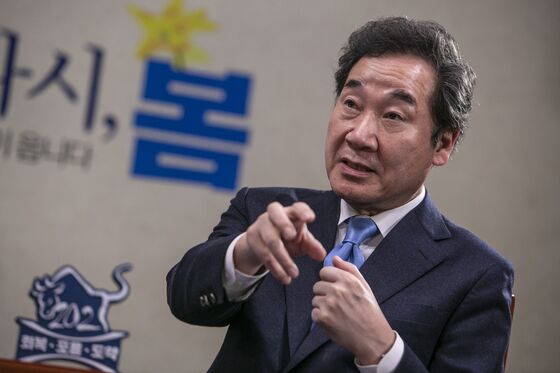 Lee must walk a delicate line if he seeks the presidency, embracing progressives policies that appeal to the base and attract voters disenchanted with Moon. The president's support levels are now hovering near record lows amid anger among many in the public who feel he hasn't done enough to tackle runaway real estate prices and erase income inequality gaps that rank among the highest in the developed world.
In the interview, Lee took some delicate jabs at Biden's role in strategic patience with North Korea under President Barack Obama, gave thoughts on cash handouts and offered an olive branch for rival Japan, where Lee once worked as a reporter for a South Korean newspaper.
Here are some highlights:
"I understand the Obama administration's 'strategic patience' was perhaps unavoidable due to the situation on the Korean Peninsula, with no inter-Korean talks taking place. But that policy basically gave North Korea the time and conditions to strengthen its nuclear arsenal. I would like to ask Biden to prioritize the North Korea denuclearization issue, and in order to do that you have to acknowledge a wider role for South Korea to play in that matter."
"As long as North Korea doesn't conduct strategic provocations, additional sanctions are not right. The way I see it, North Korea has been refraining from strategic provocations. Given this situation, it's not appropriate to even be mentioning additional sanctions."
"South Korea genuinely hopes for Japan's successful hosting of the Tokyo Olympics, and Korea will do everything it can to support that."
"As long as there are difficulties people are facing, I will have no change in my stance in thinking that fiscal policy should play a role. If the coronavirus situation does stabilize, I believe it's meaningful to give handouts as a measure to console citizens and stimulate consumption."
"South Korea's debt to GDP ratio is still sound. It's not exceeding the 40% level, but we still need to pay attention for acceleration at an acute rate. The thought of the nation taking on all of personal debt is a bit extreme of a theory, but we cannot turn a blind eye from people's difficulties just by focusing on fiscal health alone."
"China has played a constructive role for resolving nuclear problems around North Korea and peace on the Korean Peninsula. I wish China expands this role in the future. I also hope China becomes a good neighbor, more trusted by other Asian countries."