South Korea Conservatives Pick Ex-Lawman as Presidential Nominee
(Bloomberg) -- South Korea's main opposition party selected a former top prosecutor who launched graft probes into the current government to be its presidential nominee, as the conservative group pledges to take a tough line on China and rein in runaway real estate prices. 
Yoon Seok-youl, whose public support rose in a simmering battle with progressive President Moon Jae-in over prosecutorial powers, captured the nomination Friday, as he became the People Power Party's choice for the election in March. Conservatives are trying to take back the presidential Blue House for the first time in five years when Moon's single term comes to an end.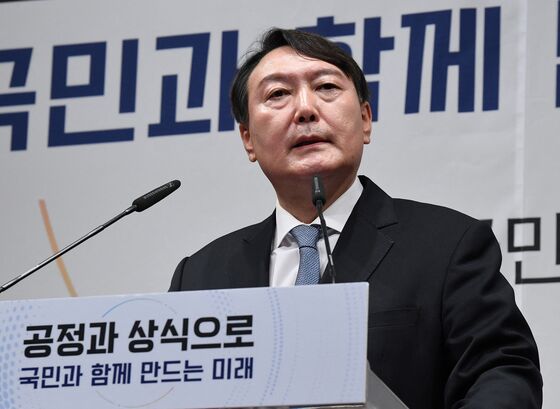 Yoon, beat his leading competitor Hong Joon-pyo by a margin of around six percentage points, the party said. Hong is an advocate for a nuclear-armed South Korea who lost in a 2017 presidential bid.
The country is heading into one of its most open presidential races since becoming a full democracy in the late 1980s. Top concerns among voters are high urban housing prices and an inequality gap worsened by the Covid-19 pandemic and highlighted in the TV series "Squid Game."
"I feel great sense of responsibility," an emotional Yoon said in a speech after the party made its decision. "We can't afford to be divided. We must now unite together for the administration change."
"I will work closely with the international community to realize denuclearization more effectively," Yoon said, adding he would strengthen cooperation with countries that "share democratic values."
Moon's Democratic Party last month picked Lee Jae-myung, the former governor of the country's most populous province to be its nominee. Lee has campaigned on a platform of universal basic income, sweeping reforms and widely expanding the social safety net.
While Yoon was handpicked by Moon to lead a campaign against corruption, he later faced a backlash from the president for launching probes that helped force out two justice ministers -- resigning his post in March.
South Korea's Ex-Lawman Who Hounded Moon Joins Opposition Party
But he has positioned himself as more moderate than Hong. While he has said he would increase pressure on Pyongyang, Yoon has also recruited Lee Do-hoon, Moon's former special representative for Korean Peninsula peace and security affairs, signaling he's open to diplomacy with Kim's regime. 
But Yoon, a relative newcomer to national politics, has suffered gaffes on the campaign trail, including remarks that seemed to defend former President Chun Doo-hwan, a military strongman responsible for crushing a pro-democracy uprising in 1980 in Gwangju with deadly force. Yoon apologized after saying last month that Chun "did well in politics."  
The PPP is trying to return a conservative to power after the group was sent into the political wilderness about five years ago. Corruption scandals plagued its last two presidents, and one, Park Geun-Hye, was removed from office in 2016.  
In a survey by Gallup Korea released Friday, 57% of respondents wanted to have Moon's progressive bloc out of office, while only 33% wanted the next president to be from the ruling Democratic Party. In another survey by the National Barometer Survey published Thursday, Yoon led Lee by five percentage points.
"We cannot forfeit the fate of this country to a candidate who lacks in philosophy, historic knowledge and preparation," Lee said Tuesday in officially launching his campaign. "We cannot leave the country to the hands of a regressive political bloc that disparages Gwangju, insists on nuclear armament, and promotes inter-Korean tensions."