S. Africa's Ramaphosa Urges Patience in Corruption Battle
(Bloomberg) -- South African President Cyril Ramaphosa, whose party faces a national election next week, urged citizens of the country to have patience and give his government and the nation's institutions time to deal with the corruption that has indebted the economy and brought state companies to their knees.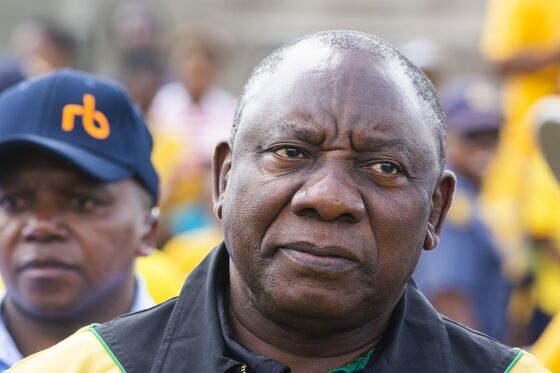 Ramaphosa took over from Jacob Zuma as national president last year and has described his predecessor's rule as "nine wasted years." Since then judicial inquiries have been held, or are in process, into state graft, malfeasance at the fund manager that invests the pensions of government workers, poor governance at the state revenue service and the fitness to hold office of the leadership of the National Prosecuting Authority.
"Ordinary people and the people of South Africa want people in jail now," Ramaphosa said in an interview with Newzroom Afrika, a Johannesburg-based television station that started broadcasting Thursday. "These things take time, the resolve is there and the resolve is irrevocable."
Ramaphosa and the ruling African National Congress have pledged to stamp out the corruption that has plagued the party as part of their campaign to win re-election in the May 8 vote. So far, that approach appears to be working with opinion polls predicting that the ANC will draw 51 percent to 61 percent of the vote, with Ramaphosa having higher approval ratings than his party. Prior to his taking over the presidency some analysts had predicted that the ANC would fall below 50 percent.
Still, the party has come under renewed criticism with a recently published book detailing corruption in which Ace Magashule, the party's secretary-general, was allegedly involved. Magashule has denied the allegations and has remained in his position. Ramaphosa said he must be given "space" to respond.
Still, Ramaphosa said the ANC is cognizant that the organization has become plagued by graft and is determined to renew itself and deal with corrupt officials.
"I know people are impatient," he said. "Will it take years? The answer is no, because the people of South Africa want action."