Ramaphosa Lauds Success of South Africa's Investment Drive
(Bloomberg) -- South African President Cyril Ramaphosa said he's been "overwhelmed" by the level of interest in an investment summit he hosted on Friday and that his plans to lure $100 billion over the next five years are well ahead of target.
With elections due to take place next year, Ramaphosa needs to show he's delivering on pledges to revive an economy mired in recession and create jobs for the 27 percent of the workforce that's unemployed. Since announcing the investment drive in April, China, the U.K., the U.A.E., Saudi Arabia and Daimler AG's Mercedes-Benz unit have pledged $35.5 billion.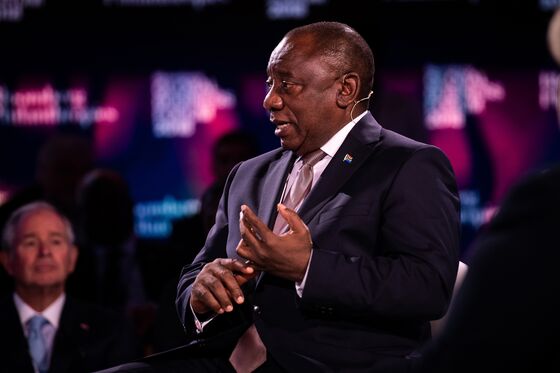 Companies pledged to invest almost $20 billion on Friday, including a $6 billion commitment from Anglo American Plc, although not all that money is new and some of it will come from state institutions.
"We are making enormous progress," Ramaphosa said in an interview with Bloomberg Television at the investment conference in Johannesburg, which attracted more than 1,000 delegates. "I think we are ahead of the track, we are way ahead, and I am overwhelmed by the level of interest in the South African economy."
The summit comes two days after Finance Minister Tito Mboweni unveiled a mid-term budget that slashed economic-growth forecasts and showed government debt peaking later and at higher levels than previously anticipated. The gloomy outlook triggered a sell-off in the rand and the nation's bonds, and raised fears the country could lose its sole investment-grade credit rating from Moody's Investors Service.