South Africa's ANC Projected to Lose Ground in National Vote
(Bloomberg) -- South Africa's ruling African National Congress is on track to win 55.6% of the national votes cast in Wednesday's elections, a substantial reduction from the last national contest in 2014, a leading research institute's projections show.
The ANC is also in danger of losing its majority in the Gauteng province, the nation's richest province, according to the projections from the Council for Scientific and Industrial Research and the public broadcaster. The results threaten to dent President Cyril Ramaphosa's ability to quell opposition in the faction-riven ANC and push through reforms needed to spur growth in Africa's most-industrialized economy.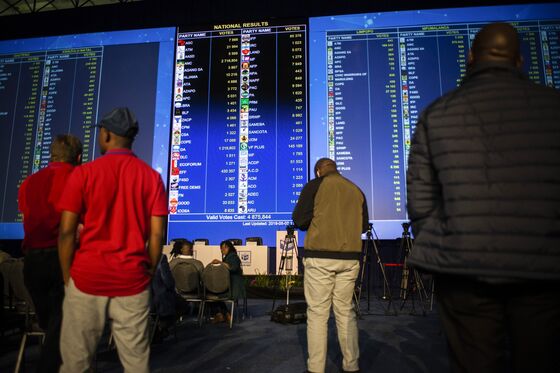 The estimates, which are based on results released by the Independent Electoral Commission from 31.9% of voting districts, show the main opposition Democratic Alliance securing 22.7% support nationally, and the populist Economic Freedom Fighters 10.3%.
"I think everyone will spin this as some sort of victory, but the support for the ANC is softer across all the nine provinces," said Daniel Silke, the director of Political Futures Consultancy in Cape Town. "There is not much more leeway for the ANC to drop before they fall below the 50% mark."
The ANC is likely to garner 49.5% support in Gauteng, the DA 28.5% and the EFF 14%.
The DA should retain control of the Western Cape province with about 55.9% of the vote.
The ANC will keep its majority in the other seven provinces.
Voter turnout was about 63%.