South Africa Forecasts 4.5% Budget Gap, Biggest in a Decade
(Bloomberg) -- South Africa's budget deficit will probably widen to the worst in a decade as declining economic growth, falling tax revenue and debt-laden state-owned companies weigh on public finances.
The National Treasury forecast a fiscal gap of 4.5 percent of gross domestic product for the year starting April 1, it said in the Budget Review released Wednesday. If realized, it would be the worst since the 6.3 percent reported in fiscal 2010, and bigger than the estimate in a Bloomberg survey.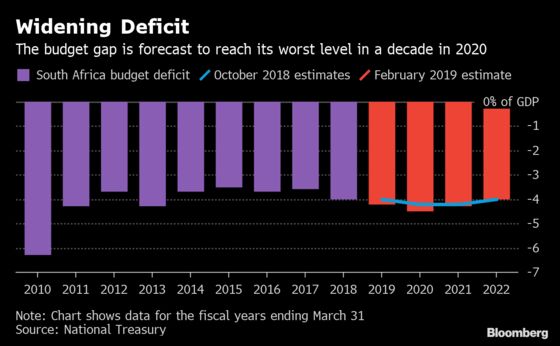 It reduced the forecast for expansion in gross economic product this year to 1.5 percent from 1.7 percent estimated in October, and cut growth predictions for the next two years.
The deteriorating outlook will test Moody's Investors Service's appetite to maintain the nation's sole investment-grade credit rating, with its next review due March 29. A downgrade would exert further pressure on an economy that hasn't expanded by more than 2 percent since 2013.
"I said that we were at a crossroads, and that we could go either to heaven, or the other way," Finance Minister Tito Mboweni said in a written copy of his speech to lawmakers delivered in Cape Town.
Forecasts for gross debt as a percentage of GDP product are worse than the October estimates for every year through 2027, with the figure expected to stabilize at 60.2 percent in 2023-24 compared with the prior prediction of 59.6 percent for the same year.
The slippages come as the Treasury provides a 23 billion-rand ($1.6 billion) lifeline to loss-making power utility Eskom Holdings SOC Ltd. in each of the next three years.
The producer, which is struggling to provide enough power from its aging plants and is building new ones that are over budget and behind schedule, implemented blackouts last week that hindered work in Africa's most-industrialized economy.
The Treasury sees Eskom as the "main risk" to the economic outlook, saying failure to turn it around could prompt capital outflows, pressurize the rand, perpetuate weak investor confidence and reduce economic growth.
Other risks to growth include more power cuts, higher electricity prices, prolonged strikes at mines and adverse weather that would curb agricultural output in the continent's biggest corn producer.
Weak economic growth and chronically high unemployment mean the state will miss its initial revenue-collection targets by more than 42 billion rand in the current fiscal year.