South African Central Bank Sees CPI Target Staying as Range
(Bloomberg) -- South Africa's central bank is unlikely to officially pursue a single point-inflation target soon even though it prefers to anchor price growth close to the 4.5 percent mid-point of its goal range, an adviser to Governor Lesetja Kganyago said.
The target range of 3 percent to 6 percent allows for flexibility in protecting the economy from price shocks, Fundi Tshazibana, who is also a member of the Monetary Policy Committee, said in an interview at Bloomberg's office in Johannesburg.
The bank increased its key interest rate for the first time in more than two years in November, saying a delay on tightening could entrench inflation expectations at higher levels and spur a stronger monetary-policy response in future. It held the rate in January as plunging crude costs and rand gains improved the bank's price-growth outlook.
"For now, the range basically gives us the same latitude that we would have because even if you have a point target, you need to give yourself space for some level of deviation from the point," she said. "You can read the point target now as 4.5 give or take 1.5 on either side."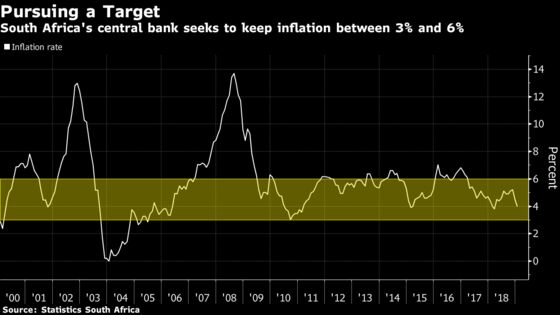 The target range was first announced in the 2000 budget. Consumer prices rose 4 percent in January from a year earlier, the slowest pace of increases since March and the 22nd consecutive month that the rate was within the band.
The MPC is less tolerant of inflation breaching the target than in the past, even though the mandate allows for flexibility in cases of exogenous shocks, Tshazibana said. It's flexible within the range, rather than outside it, she said.
While the MPC targets headline price growth, it also closely watches core inflation, which excludes changes in the cost of food, energy, gasoline and non-alcoholic drinks, and rose an annual 4.4 percent in January.
"Core would help us a lot more if we had to make a decision on whether the low prices that we are seeing in the economy are likely to remain at that level in a more stable way," Tshazibana said.