Soros-Founded School Prepares to Leave Hungary After Orban's Attacks
(Bloomberg) -- Central European University, established by billionaire investor-philanthropist George Soros to spread democracy in post-communist Europe, will prepare to relocate to Vienna from Budapest after Hungary's government moved to shut it down.
The development is a victory for resurgent nationalists around the world including Hungarian Prime Minister Viktor Orban, who've vilified Soros, 88, a major donor to liberal causes. Soros received a pipe-bomb in the mail at his New York home on Monday, one of several sent to high-profile targets that included Barack Obama and Hillary Clinton.
CEU will move its U.S.-accredited degree programs to Vienna as of Dec. 1 unless the government signs off on letting the university stay, President Michael Ignatieff said on Thursday. New students will be enrolled in the Austrian capital, he said. The Hungarian degree program will be continued in Budapest. No university has ever been evicted from a European Union member.
"We cannot operate legally in Hungary as a free, U.S.-accredited institution," Ignatieff said. "We're being forced out of a country that's been our home for 26 years."
The fight over CEU, which grants graduate degrees in fields ranging from political science to business, has eclipsed many other concerns among Hungary's NATO and EU allies, including the capture of formerly independent institutions, the media, and courts. Orban is pursuing an "illiberal state" by sweeping aside some of the values that underpin the EU.
"Up to now CEU has operated here, it does so now, and we think that it'll continue to do so in the future," government spokesman Zoltan Kovacs said on Twitter. He called CEU's announcement of a move to Vienna a "George Soros-style political ploy."
The EU's executive filed a lawsuit against Hungary to stop it from expelling CEU. The European Parliament voted last month to back an EU probe to determine whether Hungary was systemically undermining the rule of law. The U.S. has also said safeguarding the university was a key demand from the Donald Trump administration in exchange for ending a policy based on isolating the NATO ally.
"CEU remains a priority for the U.S. government and has overwhelming bipartisan support in the United States," Ambassador David Cornstein said in a statement. "There is a small window to resolve this, but it needs to happen fast."
For years, Orban has led a relentless campaign against Soros, a Hungarian-born Holocaust survivor who emigrated after World War II. He portrays Soros as the mastermind of a liberal conspiracy to flood Europe with immigrants. Critics, including Soros himself, have rejected the allegations and say the narrative is cover for Orban's crackdown against dissent.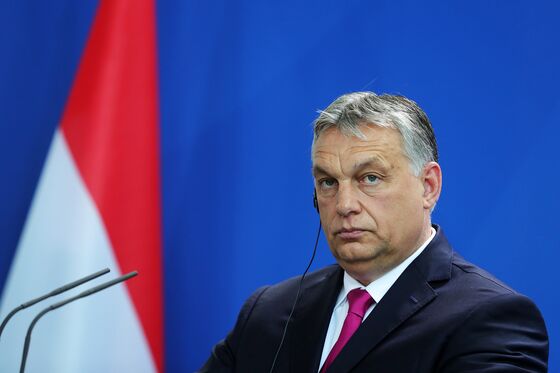 Soros's Open Society Foundations, one of the world's biggest financial backers of non-governmental organizations, moved its staff from Budapest to Berlin this year to protect the safety of its employees after Orban won a third consecutive term in April.
CEU's decision came two months before a year-end deadline for the government to sign off on certifying it as meeting tighter regulations governing foreign universities, which would allow the school to continue enrolling new students next year. The Hungarian government told the U.S. embassy in Budapest that it had no plans to do so, Ignatieff said, though he said CEU is still open to reconsidering its decision "at this late hour" if Orban reconsiders.