Social Unity More Important Than Brexit Costs, Hammond Says
(Bloomberg) -- For Chancellor Philip Hammond, ending the social divisions over Brexit matters more than the economic cost of leaving the European Union.
"What would be catastrophic would be to fail to move on, to remain mired in this debate for months or years or longer," he told Parliament's Treasury Committee Wednesday in a plea to lawmakers not to reject Prime Minister Theresa May's Brexit deal. "We have to resolve this so we can go back to rolling out the latest technologies, to supporting our businesses to grow."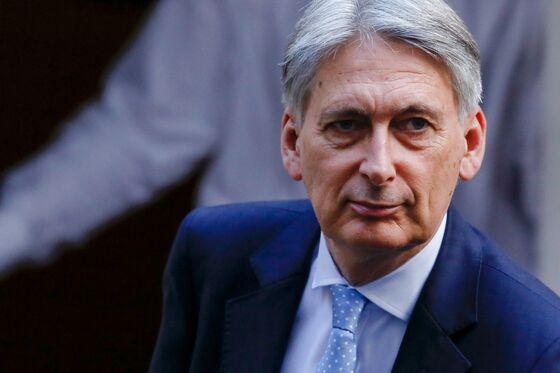 Hammond was answering questions on government forecasts last week that showed Britain will be worse off in 15 years under any Brexit outcome.
While the hit to economic output could be as much as 10.7 percent in the worst-case scenario, the option sought by the U.K. -- maintaining close ties with the EU -- would involve only "very modest" costs, Hammond said.
"If the proposal on the table was a no-deal exit, I would take a different view," he said. But a deal with minimal costs that "avoids large swathes feeling betrayed, but allows all of us to accept, in a rather British way, that we've made a compromise solution and we've moved on, I judge that even narrowly economically that would be in the best interests of our country."
But the deep divisions were on display again on Wednesday as the government was forced to publish the previously secret legal advice given to the Cabinet on the deal May negotiated with the EU. Hated by politicians on both sides of the debate, the agreement is expected to fail in a decisive parliamentary vote next week, throwing the final course of Brexit into fresh confusion.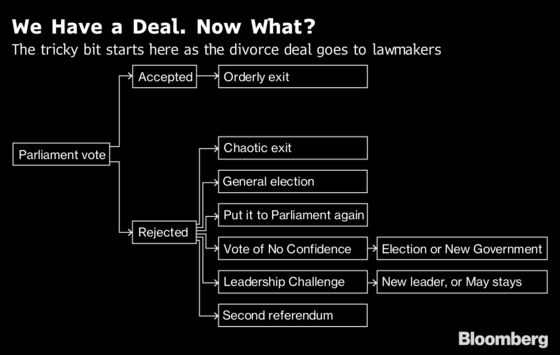 A no-deal Brexit would represent a "terrible outcome" for the U.K. and the years following could be comparable to the 1980s, when the economy made "a significant adjustment away from certain patterns of industrial and commercial activity to a different set of commercial and industrial activities," Hammond said.
He also indicated that fiscal policy would be the first line of defense in the event of a chaotic departure, as a depreciation of the pound pushed up inflation, making it hard for the Bank of England to loosen monetary policy as it did in the wake of the 2016 referendum.
"It is implausible that in a no-deal scenario the government wouldn't do anything. Of course we would do something," he said. "What we are talking about is carrying out some short-term borrowing to support the economy in the short term."