Merkel Warns Lenient Regions She May Take Control of Covid Fight
Chancellor Angela Merkel threatened to assert federal authority over measures to stem the Covid-19 pandemic, as the increasingly embattled German leader attempts to reverse the latest surge in infections threatening Europe's biggest economy.
The unexpected turn of events highlights Merkel's struggle to maintain control over pandemic strategy in the face of intransigence from the country's powerful state leaders -- who in some cases have opted not to enforce restrictions agreed with her administration.
Mounting public opposition to lockdown measures and a stuttering vaccination drive are adding to the burden, and with just six months until the national election which will mark the end of her 16 years in power the pressure is clearly taking a toll. Merkel has shown uncharacteristic bursts of temper in meetings with regional officials, and last week had to make a rare public apology after being forced to rescind a hard lockdown planned for the Easter holidays amid a storm of criticism.
In an interview with ARD television late Sunday, Merkel expressed exasperation with what she described as broken commitments by the 16 state leaders, who have direct authority to deploy health and safety rules under the country's federal system. She singled out two state premiers of her Christian Democratic Union party who are personal allies, as she tries to increase pressure on regional officials to act.
"We can't go on like this," Merkel said. "We meet every four weeks and then we just keep going the same way as before."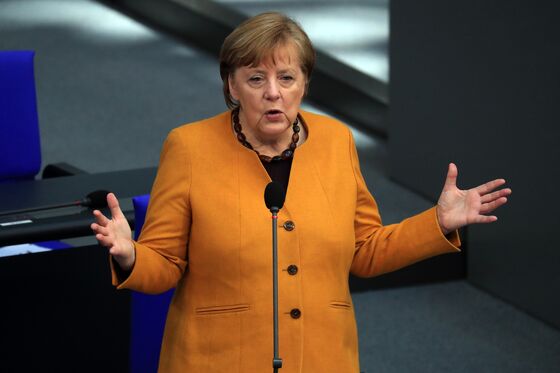 Asked at the end of the interview whether she would be exiting politics with a good feeling, Merkel described her current situation as "extremely demanding."
"I will act resolutely every day to do something positive for this country," she added. "How I will feel when I step down, I don't know. At the moment, in any case, I have a feeling of determination to tackle the third wave of the virus that is confronting us."
Merkel's chief of staff, Helge Braun, will likely hold a call with state officials on Monday, according to a person familiar with the situation who asked not to be identified because the talks haven't been announced publicly.
The call could lay the groundwork for another meeting between Merkel and state leaders, which could take place Tuesday, the person said. Such a meeting -- which would bring forward the next round of talks originally planned for April 12 -- could decide on stricter limits to check the spread of the virus, Bild newspaper reported.
However, Merkel said she is not in favor of holding another meeting "in coming days," adding that for that to happen "it must be clear that jointly agreed results" will be achieved.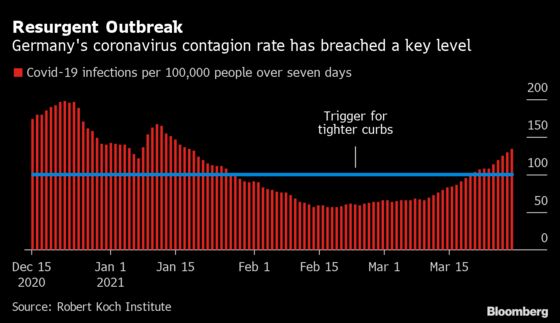 Germany's seven-day incidence rate per 100,000 people continued to climb on Monday, rising to 134.4 from 129.7 the previous day. It has more than doubled since falling to 56.8 on Feb. 19 from a peak of almost 200 in late December.
Merkel called on state authorities to follow existing guidelines and impose curfews, contact curbs and work-from-home rules as warranted.
"If that doesn't happen in the very foreseeable future, you have to think about how that might be dealt with federally in a uniform way," Merkel said. "We are bound by law to contain the infections. Right now, we don't have containment."
She threatened federal legislation to partly wrest public-health policy from the states, via Germany's infectious-disease control law. "I'm declaring a watershed -- and I'm not done thinking about it, either," she said.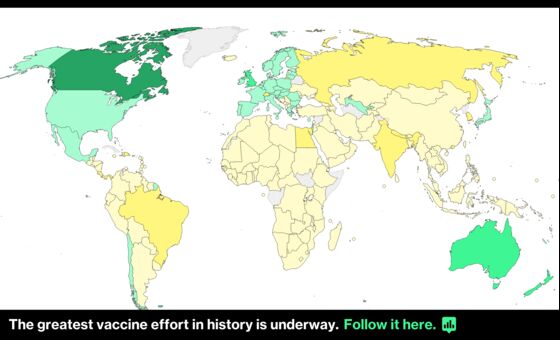 Merkel even called out the premier of North Rhine-Westphalia state, Armin Laschet, the CDU chairman and one of the party's candidates vying to succeed her as chancellor.
"But he isn't the only one," she said. "We can only rebuild trust if federal governments and states are acting together."