Slovenian Party Proposes Grand Coalition to Break Deadlock
(Bloomberg) -- A Slovenian political party that has been talking to the top two finishers in last month's inconclusive parliamentary ballot proposed that they join forces to break a deadlock that may trigger a re-do election.
The euro-area nation of 2 million people is facing a protracted standoff after no party emerged with a clear majority, touching off the European Union's latest struggle between populists and pro-integration political forces. The record nine parties that made it into parliament are roughly split between those that tout the benefits of EU membership and a brand of euroskeptic, anti-immigrant leaders like those who've taken power in neighboring Hungary, Austria and Italy.
Vote winner Janez Jansa, a former prime minister, has received a mandate to form a government, but most parties are refusing to work with him in protest of his nationalist, anti-refugee pre-election campaign. Runner up Marjan Sarec has pledged to cobble together an alternative coalition of as many as six parties if he gets a chance. In the center is the pro-business New Slovenia party, led by Matej Tonin, who says Sarec should join Jansa.
"It would be best if Slovenia gets a grand coalition that would be formed by the first and second-placed parties," Tonin said late Monday in central Ljubljana, explaining that his party would have difficulties in working with a Sarec-led coalition of many parties. "We would thus have the strong coalition that Slovenia needs."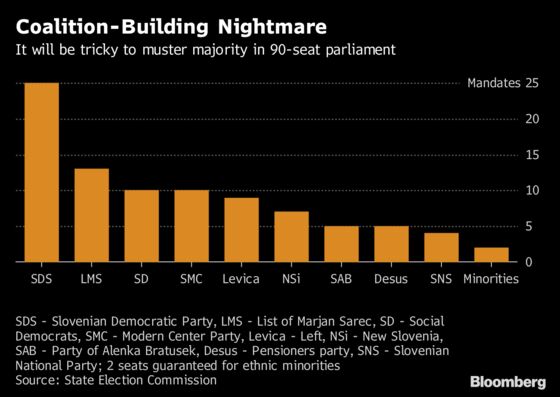 Tonin is set to meet Jansa Tuesday to explore whether he can form a government before July 19, the deadline imposed by President Borut Pahor. Jansa lacks the numbers for a majority in the 90-member assembly, but he hasn't given up yet, his party spokeswoman said by phone. If he fails and Sarec is also unable to create an administration, there will be a third round of talks. Tonin said he was optimistic that Slovenia can still have a working government by mid-August.
If all attempts fail, the country would face another snap vote that would pose risks to urgent tasks awaiting the new administration. Slovenia is trying to sell at least 50 percent of Nova Ljubljanska Banka d.d. this year to avoid penalties after it missed an end-2017 deadline imposed by the EU after the country bailed out its state-owned lenders.
The future government must also agree on a replacement for former central bank Governor Bostjan Jazbec, who left for a new job in April. The governor is a member of the European Central Bank's Governing Council.