Slovakia Has New Leader as Russia Vaccine Feud Ousts Premier
(Bloomberg) -- Slovakia reshuffled its leadership after a crisis over buying Russian coronavirus vaccines forced the prime minister to swap posts with his finance chief.
Igor Matovic, who unexpectedly won last year's elections, resigned on Tuesday, in line with an agreement among the four ruling coalition groups. President Zuzana Caputova asked Eduard Heger, the finance minister in Matovic's cabinet, to lead the new government.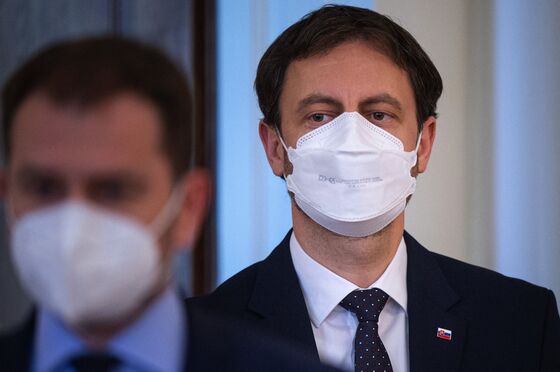 The reshuffle calms a month-long political crisis that erupted when Matovic's partners complained that he agreed to buy Russian Sputnik V shots behind their backs. The turmoil underscored pressure on political leaders in the European Union, which is struggling to inoculate its population and has fallen behind the U.S. and the U.K.
Heger, 44, is Matovic's close ally from a party that rose to power on pledges to root out graft. While the ruling alliance had been continually plagued by infighting and personal animosities, it still managed to enact a wide anti-corruption sweep of the police, judiciary and business circles.
"I have learned a lot from you in politics and I'm looking forward to our future cooperation," Heger told his party chief before they swapped jobs.
Before becoming the finance chief, the incoming prime minister kept a relatively low political profile. After studies at the University of Economics in Bratislava, he held several management posts in private companies, including a producer of high-end vodka. Heger was first elected as a member of parliament on Matovic's party ticket in 2016.
Before his ouster, Matovic had sought outside-the-box solutions to the pandemic, launching the EU's only effort to test the entire adult population in the nation of 5.5 million. The euro-area member, which was initially among the most successful in containing contagion, has suffered from one of the deadliest outbreaks in Europe since the fall.