Corruption, Cover-Ups and a President Accuses the Government
(Bloomberg) -- Slovakia's president said top officials have for a decade covered up for organized crime, increasing pressure on a government that's already facing public discontent over the murder of an investigative reporter eight months ago.
The small European Union country is enduring a turbulent year after the execution-style killing of the journalist and his fiancee, which triggered the largest street protests since the fall of Communism and led to a government shuffle. President Andrej Kiska, a foe of former veteran Premier Robert Fico, said an intelligence-service report he commissioned showed schemes in which EU funds worth tens of millions of euros were misappropriated without any investigation.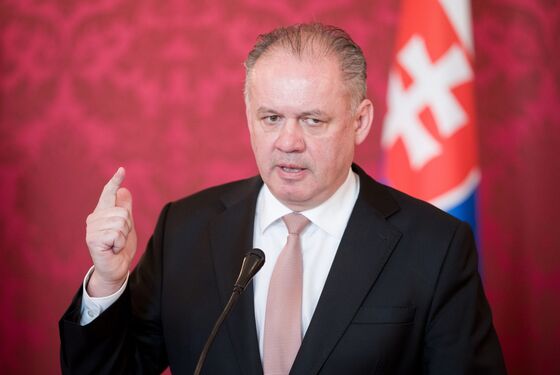 "If this information is true, then there's only one explanation: those people had cover from state mafia, policemen and politicians who decided not to investigate anything and hide things under the carpet," he said in an essay published by the DennikN newspaper. "They must have had cover from police leadership as well, which had the same information."
Kiska said at least two people with "very close" ties to suspicious individuals had worked at the government office. He didn't name the officials or give more details of criminal activities.
The murder of journalist Jan Kuciak, who wrote about links between organized crime and the state, and his fiancee in February shocked the country of 5.4 million and deepened public distrust of government institutions. Under pressure from demonstrators who demanded early elections, Fico stepped down as prime minister halfway into his third term. He picked his replacement, Peter Pellegrini, keeping the three-way pro-European coalition in power.
Kiska, who won't seek a second term at elections next year, has repeatedly clashed with Fico's Smer party over what he calls state mismanagement. The president says he wants to stay active in politics after his term ends, which local media have interpreted as a signal that he's looking for a way to take part in 2020 parliamentary elections.
Jan Mazgut, the spokesman for Smer still headed by ex-premier Fico, declined to comment on Kiska's remarks. The prime minister said the intelligence agency's report doesn't explicitly mention links between the mafia and the state.
"It's a misinterpretation" of the report, Pellegrini told reporters on Tuesday in Kezmarok, eastern Slovakia. "Such remarks don't make good impression of Slovakia. But I got used to it from the president since he has never said anything positive about Slovakia."